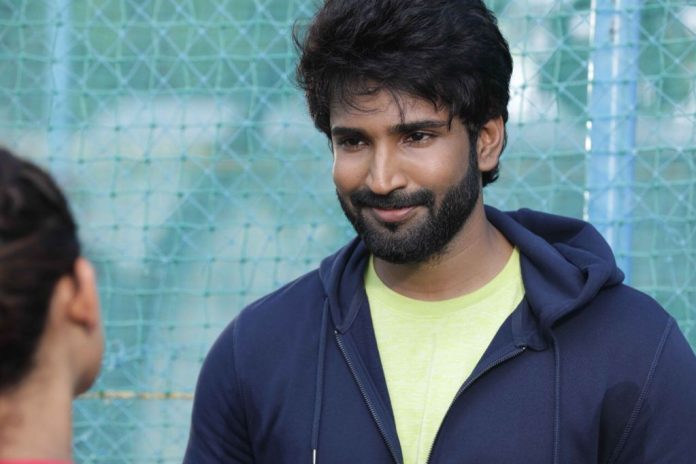 AADHI'S CLAP TEASER GETS PHENOMENAL APPRECIATION WITH 1 MILLION VIEWS
BIG PRINT PICTURES IB KARTHIEKYAN PRESENTS PRITHIVI ADITHYA DIRECTORIAL AADHI STARRER "CLAP" TEASER GETS PHENOMENAL APPRECIATION WITH 1 MILLION VIEWS
The teaser of Big Print Pictures producer IB Karthikeyan's Clap starring Aadhi in the lead role unveiled recently has found a phenomenal response. The energetic performance of Aadhi and director Prithivi Adithya's talent over the establishment of all the characters, the emotional impression of the plot all encapsulated in just not more than 70 seconds has turned the spotlights upon the teaser. Amidst the tremendous response, what has made the entire crew of 'CLAP' is uncalled-for surprise from the herculean star of Indian film industry – Amitabh Bachchan, who has appreciated the teaser, thereby congratulating actress Aakansha as well. The veteran actor in praising the talented Akanshka has indeed endorsed the idea of the actors working across other languages and also reserved his praise for the trailer of clap.
Producer IB Karthikeyan, Big Print Pictures, says, "We thank Amithabji for the great gesrure. The clap becomes bigger when it comes from his big hands .The response that CLAP teaser has been getting is beyond our expectations. We were confident that it will have a decent reception, but what's happening now is huge. The movie has passed through various hurdles due to the pandemic crisis. And now, such responses give me a sort of comfort and gleefulness. Sports and Movies are the only domains that unite everyone beyond the linguistic values and boundaries. In this aspect, the CLAP crew is glad to see the great response from not just audiences, but film celebrities as well, which includes The Emperor of Indian cinema – Amitabh Bachchan sir. Director Prithivi Adithya's ability to exhibit the core concept of the movie crisply is appreciable. Personally, I am glad to see 'CLAP' teaser garnering good results, which has elevated the expectations among Tamil, Telugu and Hindi audiences. The response to Aadhi's performance is getting fabulous reception. I am confident that with the movie release, his stature is sure to get escalated to the next level. Moreover, the film will find its enhancement with the magical touch of Maestro Isaignani Ilaiyaraaja."
The makers will make announcements on the audio, trailer, and worldwide theatrical release date of CLAP. Written and directed by Prithivi Adithya, CLAP is simultaneously made in Tamil and Telugu, with IB Karthikeyan of Big Print Pictures as the producer. P. Prabha Prem, Manoj & Harsha have co-produced the movie. Aadhi, Akansha Singh, Krisha Kurup, Prakash Raj, Nasser, and Mime Gopi, Munishkanth are the main actors in the star cast.