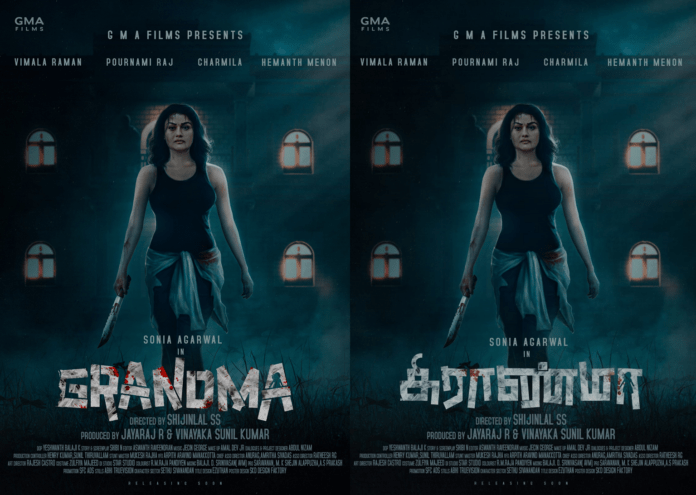 19 celebrities unveil the first look of Sonia Agarwal starrer spine-chilling horror flick Grandma
It's a great moment for the entire crew of GRANDMA movie as 19 celebrities from the film industry have unveiled the first look of this movie. This spine-chilling horror-thriller flick features Sonia Agarwal, Vimala Raman, and Charmila in the lead characters. The film is directed by Shijinlal S.S. and is produced by Jayaraj R and Vinayaka Sunil of GMA Films.
Producer Jayaraj R, GMA Films says, "I am happy to see these 19 prominent personalities from the industry coming together to launch the first look of our film 'GRANDMA'. Their kind gesture has helped the first look find a phenomenal reach. I thank everyone for making this a beautiful success."
Producer Vinayaka Sunil says, "On the behalf of GMA Films, I thank all the celebrities, who exhibited their beautiful support towards the launch of this first look. This means a lot to all of us in the 'Grandma' team. We will be soon making announcements on the audio, trailer, and worldwide theatrical release of Grandma soon."
Filmmaker Shijinlal S.S. says, "First and foremost, I would like to thank the producers for trusting my script and materializing it. These 19 celebrities have made the first look, a great success. I am confident that Grandma will be a first-of-its-kind and fresh experience for the lovers of horror cinema. All the actors and technicians in this movie have exerted their best work."
Sonia Agarwal, Vimala Raman, and Charmila are playing the lead characters in this movie, which has Malayalam actor Hemanth Menon appearing as the villain. Apart from them, child artist Pournami Raj J performs a pivotal character.
Shibi N (Story, screenplay, direction), Yeshwanth Balaji K (Cinematography), Aswanth Raveendran (Editing), Shankar Sharma (Music), Amal Dev JR (Makeup), Abdul Nizam (Dialogues), Mukesh Rajha (Stunt), and Rakesh (Art) are the main technicians in this film.