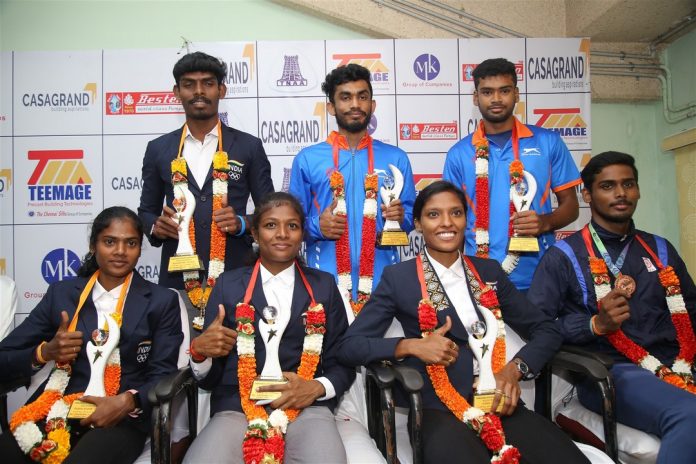 World Under-20 Athletics Championships 2021: TN athletes felicitated
Minister Thiru.SIVA V. MEYYANATHAN Felicitated TamilNadu Athletes and Coaches from TOKYO OLYMPICS 2020 and WORLD ATHLETIC U20 CHAMPIONSHIPS 2021 organised by  TAMILNADU ATHLETIC ASSOCIATION

The Tamilnadu Athletics Association  Felicitation Function held at Media Hall, Jawaharlal Nehru Stadium, Chennai, on Friday, the 27th August, 2021 to celebrate and recognize the achievements of our State's Athletes and Coaches who had taken part in the OLYMPIC GAMES at TOKYO – 2020 and World Under-20 Athletics Championships at Nairobi.  

Thiru. Siva. V. Meyyanathan, Hon'ble Minister of Youth Welfare and Sports, together with former Olympians and Arjuna Awardees from our State graced the occasion to felicitate the above Athletes and Coaches.
For the first time in the history of Tamil Nadu state, as much as five athletes represented India and taken part in the Tokyo Olympics.  In addition, three young athletes from the State had taken part in the World Athletics U20 Championships held at Nairobi, Kenya on behalf of India.  

Arokia Rajiv and Naganathan Pandi among the men, Revathi Veeramani, Subha Venkatesan and Dhanalakshmi Sekar among the women represented India in Men's 4 x 400m relay and Mixed 4 x 400m relay races at Tokyo.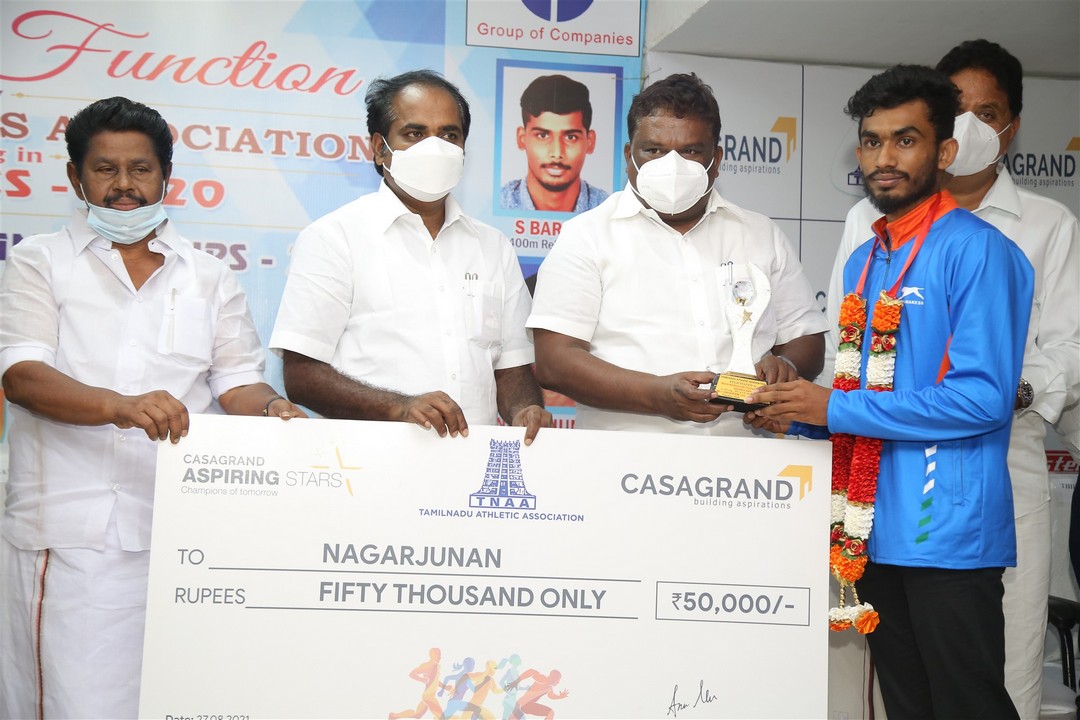 The Men's 4 x 400m relay team in which Arokia Rajiv took part narrowly missed a chance to enter the final but credited with a new ASIAN RECORD time of 3 minutes 0.25 seconds.
Never before in the history of Tamil Nadu state's athletics so many athletes represented at a single edition of the Olympic Games.  In the previous Rio Olympic Games in 2016 only four athletes from Tamil Nadu were part of the Indian team in athletics.  

In Tokyo, for the first time a record number of THREE WOMEN ATHLETES from the State participated amongst the total FIVE athletes, that included the two men as mentioned above.In the World Athletics U20 championships held at Nairobi, Kenya, (Aug 18-22) our State's athlete Barath Sridhar had won a Bronze Medal as part of the Indian Mixed 4 x 400m relay squad.   Another athlete from our state, S. Nagarjunan, was also part of the relay team as a reserve runner.  In triple jump, Tamil Nadu's Donald Makimairaj barely missed the bronze medal in just 3 cm to a French boy Simon Gore.  However his fourth place finish was an improvement from his predecessor K. Kamal Raj, who finished fifth in this event in the previous edition of the World Junior Championships held in 2018 at Tampere, Finland.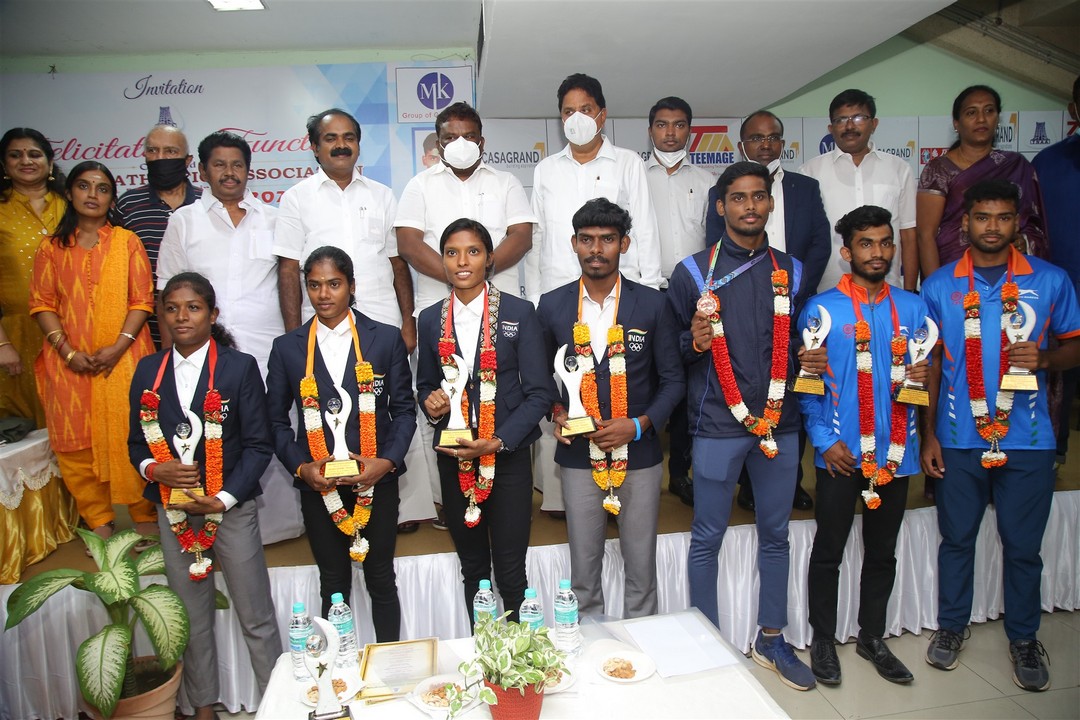 Tokyo Olympians P. Naganathan (4x400m men's relay), V. Revathi, V. Subha and S. Dhanalakshmi (all 4x400m mixed relay) were given Rs.1 lakh each. S. Barath, who was part of the bronze winning 4x400m mixed relay team in Nairobi, was also given Rs. 1 lakh while other participants — M. Donald (triple jump), S. Nagarjunan (4x400m relay) were given Rs.50,000 each.Coaches were honoured with Rs.20,000 each.

The dignitaries consented  Guests of Honour apart from Chief Guest & Hon'ble Sports Minister are (1) The Member Secretary, Sports Development Authority of Tamil Nadu, (2)Thiru. Aadhav Arjun, President, Tamilnadu Basket Association  (3) Thiru. Manikandan, Managing Director, MK Group of Companies, (4) Thiru. Anbazhagan, M.L.A. and Vice President of TNAA (5) Thiru. Myilvahanan, I.P.S. and (6) Dr. Sripriya Gowrishankar, MD, Besten World Class Pumps.

CASAGRAND are the main Title Sponsor while MK Group of Companies co-sponsored the above function. Besten Pumps and Chennai Silks are the Associate Sponsors.

The function held in a grand manner so as to encourage the budding athletes from the State and to inspire many other youngsters to take part in athletics and win laurels for the country in the near future