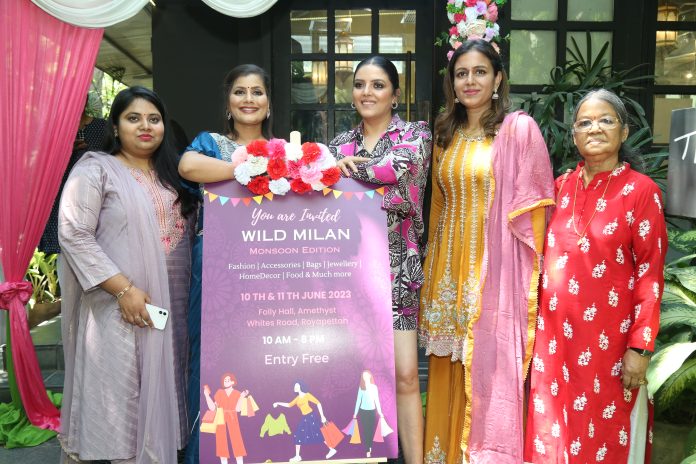 WILD MILAN POP UP  – MONSOON SHOPPING FEST inaugurated by Meena Chabbria, Ghun Jain, Eshitha & Siri chandana
  An exclusive pop up show by Wild Milan featuring small scale businesses which includes food, clothing, accessories, sustainable goods, footwear from all over India on June 10th & 11th 2023 at Amethyst Folly Hall.
Wild Milan motive is to support small scales and home-grown businesses.
Wild Milan pop up show presents a mix of fashion, appetizing food and uncompromising shopping experience at the most happening place of the city Folly Hall, Amethyst Chennai
This show is created especially for Small scale businesses, who mostly conduct business through online platform, this is an opportunity for them to exhibit their products to our exclusive clientele
We are coming up with more shows pan India, showcasing the products of many young and talented entrepreneurs. This Monsoon shopping festival by Wild Milan will meet all your shopping needs right from Handmade clothing, footwear and accessories to Food, toys, Art and craft, vegan skin care and many more eco friendly and sustainable products.
List of brands participating
CLOTHING BRANDS
AVKHUSH
ISLEVENIAA
SHINE BOUTIQ
DRESS UP
HOUSE OF AKOOR
KHIAS
RUTVIS
AADYA DESIGNS
JYOTHI COLLECTIONS
ADHUS BOTIQUE
ANSRUTAS
SUSTI
ACCESSORIES 
GO CHIC
KI & KA
JHUMKA COLLECTIVE
ONLY BAGS
VINTAGE COLLECTIONS
HEER BY PRIYANKA
MAXIMAL BY ANITHA
SHIMMER & SPARKLE
ORGANIZERS PROFILES
Wild Milan is a Dream project of three friends Eshitha, Siri and Ghun whose aim was to create a platform for Small and Upcoming businesses at affordable pricing.
Gunavathy Ghun Jain
Ghun is an avid social media influencer with a followers of 55.6 K. She is co-founder of Susti for Life, which has latest collections of sustainable unisex Shirts and Kaftans.
Arrabbe Perinpanathan 
Dr. Arrabbe alias Eshitha Doctor by profession, Founder of Body glow, Professional singer and classical dancer, coming from a business background, She has always been passionate about supporting small and upcoming brands and creating a platform for them.
Siri Chandana Reddy
Siri is a finance professional who quit her corporate job, a first-generation entrepreneur who started a sari brand whose motive is to bring back the forgotten weaves and crafts of India, and make them a part of every one Wardrobe, Her passion is to support startup's &  Young Entrepreneurs and provide them a platform to show case