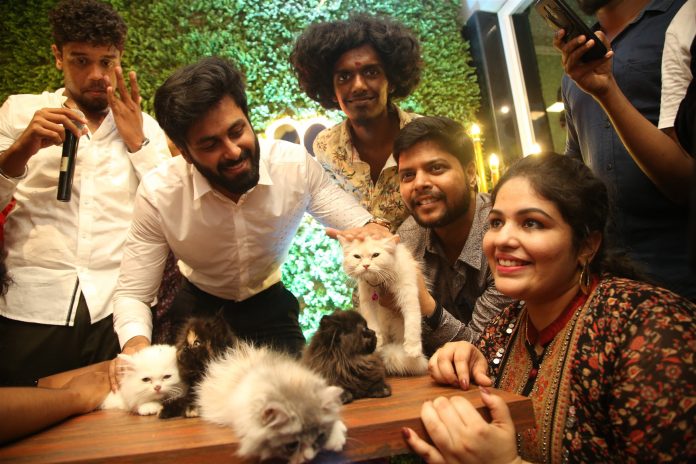 Twisty Tails launches South India's first Cat Cafe: Kitty Love inaugurated by Cook with Comali Fame Ashwin & KPY Bala at Alwarpet
Pet Themed Restaurant has Added a Cat Section to it's Venue
Twisty Tails, a pet themed restaurant, has opened South India's first Cat Cafe. The restaurant was established in 2018 by the founders Vikram Vaishnav and Rekha Dandey who have now opened their doors to felines as well.
Twisty tails has strived to be a space for people to play with dogs and experience the relaxation and joy that pets bring to us, with the addition of this new section; customers can walk in and play with cats. The restaurant is infamous for it's puppy love room where people could play with sixteen dogs of breeds Shih tzu, Havanese, Tibetan Spaniel and Bichon Frise. It will now also include a kitty love section in the same venue; which hosts cats of breeds Indian, Himalayan, British Shorthair and Persian.
 The restaurant is also partnering with NGOs to foster and help facilitate adoption of kittens. The customers can play with the kittens looking for homes, and if interested they can directly adopt the kitten from the restaurant. They will also be taking adoption requests for dogs.
Kitty Love was launched by Ashwin Kumar and KPY Bala from Cook with Comali & Actor Nakul.The launch event was hosted by VJ Nikki.
 Location: NO.1, Ananda Rd, Alwarpet, Chennai, Tamil Nadu 600018

Timings- Puppy love: 12:00-3:00PM, 5:00-7:00PM, 8:00PM-10:30PM
Kitty love: 1:00-2:30PM, 3:30-5:30PM, 6:30-7:30PM, 8:30-10:30PM
The restaurant will be open from ____12:00-10:45PM
Follow @twistytailsrestaurant on instagram for more updates.
contact for details 9092258887 & 9789959376
ALSO READ: