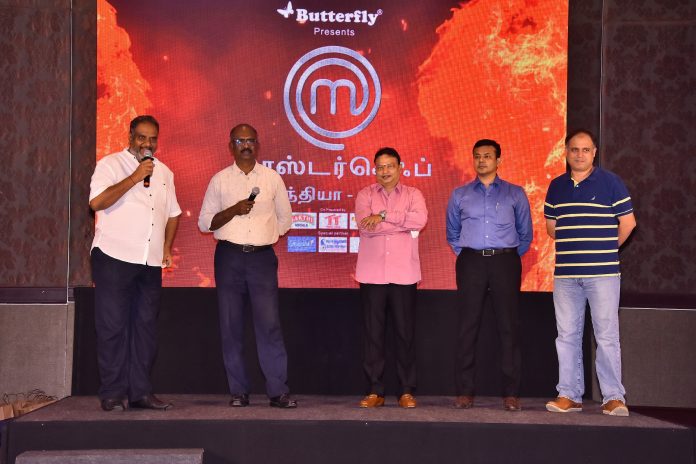 International culinary show MasterChef clocks 500 episodes; MasterChef Tamil becomes the first regional property to air the milestone episode
~ Hosted by Vijay Sethupathi, MasterChef Tamil is all set to premier on Sun TV starting from 7th August 2021, every weekend between 9:30 PM to 10:30 PM~ 
Chennai, 28th July 2021: Internationally revered culinary reality show, MasterChef today celebrated an important milestone in an event in the city. With the recent announcement of launching the international show in regional adaptations, the producers of the show – Innovative Film Academy and Endemol Shine today announced that the show will clock its 500th on-air episode with the launch of MasterChef Tamil. Bringing together the key sponsors, the makers also formally unveiled the show format and shared insights about the grand sets of MasterChef Kitchen. Title sponsor Butterfly Kitchen Appliances, The co-sponsors Sakthi Masala, Tasty Tasty and Udhaya Krishna Ghee, Special Partners Sangeetha Mobiles, VELS University and Anil Foods and Invenio Origin, were present at the press conference.
With the show slated for launch on 7th of August 2021 andwill be aired on Saturday and Sundaybetween 9:30 PM to 10:30 PM on Sun TV, the makers in the conference also shared insights about the tremendous support offered by the sponsors to bring the 500th episode to life in true-blue Tamil style. Commenting on the occasion, Mr. Saravana Prasad, Founder – Innovative Film Academy, said "We are thrilled to be launching MasterChef Tamil and it is indeed an honor toroll out a milestone episode in Tamil. This international property has carved itself a niche in the GEC space and we are proud to be producing the regional adaptation. We would like to take this opportunity to thank our sponsors who have been a pillar of support in this journey of launching MasterChef Tamil and it gives us immense joy to be celebrating this occasion with them."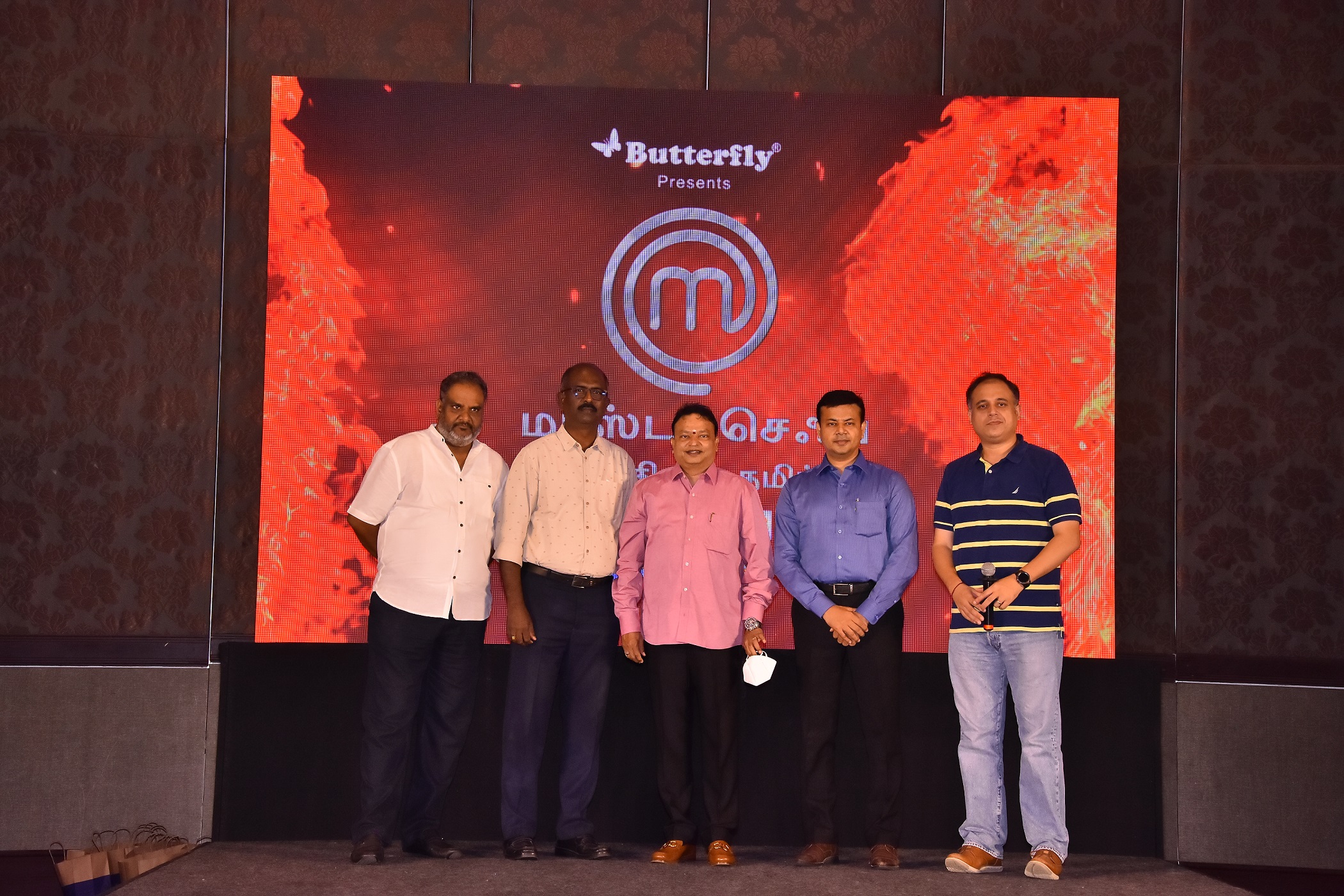 Adding to this, Mr. Abhishek Rege from Endemol Shine India said, "MasterChef has set unprecedented benchmarks globally and I can confidently say that the regional adaptation has surpassed the benchmark in terms of production quality, content and the contestants. It has been an absolute pleasure to work with IFA to bring MasterChef in not just one but four regional languages. We are confident that this show will be an instant hit amongst millions of households."
On these lines, Dr. Ishari K Ganesh from VELS Univeristy, said, "Today's marks an important milestone for MasterChef and the makers, we are truly happy to be a part of this celebration. We are confident that this association will scale new heights and bring to audience a compelling watch." 
Lauding the makers for leaving no stone unturned in the making of MasterChef Tamil, Mr. V.M.L Karthikeyan, Butterfly, Title Sponsor for the show, said "Butterfly has a legacy in Tamil Nadu and we have always been selective in our TV sponsorships. With IFA and Endemol Shine joining hands to bring one of the acclaimed international properties to regional languages was an irresistible opportunity for us. We are happy that we joined this super team just in time to bring MasterChef Tamil to our audience and consumers." 
Sharing his views, Mr. Alankar Pandian, Invenio Origin says "We are happy to be associated with MasterChef South India as an associate partner, this partnership builds portfolio further to worldwide Audience." 
Invenio Origin FZC / Pte ltd firm which is Dubai and Singapore based are the overseas Distributors of regional movies and content creators for Digital media. Invenio Films India, the Indian production arm of Invenio Origin, has produced 4 Regional movies and 2 Bollywood movies. They have been associated with the MasterChef South India as partners to take the regional adaptation a quantum leap to audience across the globe.
MasterChef Tamil is also set to be presented by other esteems sponsors like Dr. Santhi Duraisamy from Sakthi Masala, Mr. Nagarajan.S from Tasty Tasty and Mr. Jahanathan P from Udhaya Krishna Ghee as Co-sponsor partners. Mr. Subhash Chandra L from Sangeetha Mobiles, Dr.Harish from Sudha Hospitals and Mr. Prabhakar and Mr. Sugumar from Anil Foods.
MasterChef Tamil is set to be hosted by Makkal Selvan Vijay Sethupathi and is slated on 7th of August 2021 and will be aired on Saturday and Sunday between 9:30 PM to 10:30 PM on Sun TV. The show will witness several home cooks battling in the kitchen for the coveted title.