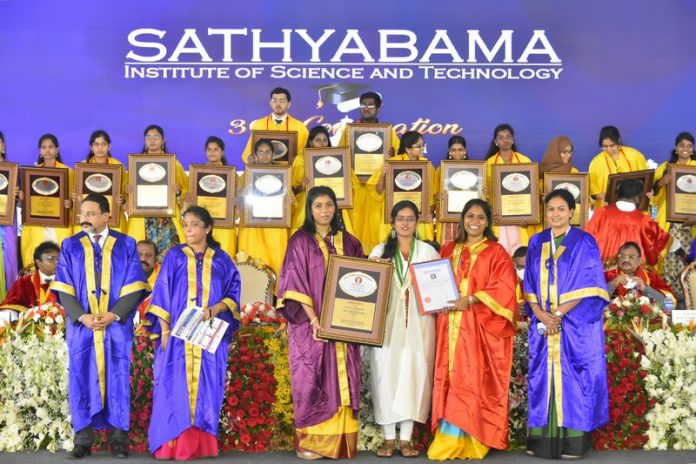 Sathyabama Institute of Science and Technology held its 30th Convocation – 3432 Students received the Degrees from Thiru. A. RAJARAJAN, Distinguished Scientist and Director, ISRO at SATHYABAMA Sathyabama Campus
Sathyabama has entered in its 34 years of inception and has completed 20 years as Deemed to be University. The Deemed to be University maintains high standard in teaching, training, and Research. The continuous efforts by all the stake holders, students, parents, Industry and Alumni is making Sathyabama to achieve greater heights, every year. As result of this, Sathyabama is ranked one among the top 50 Universities in India for 6th consecutive years, NIRF 2021 ranking, Government of India.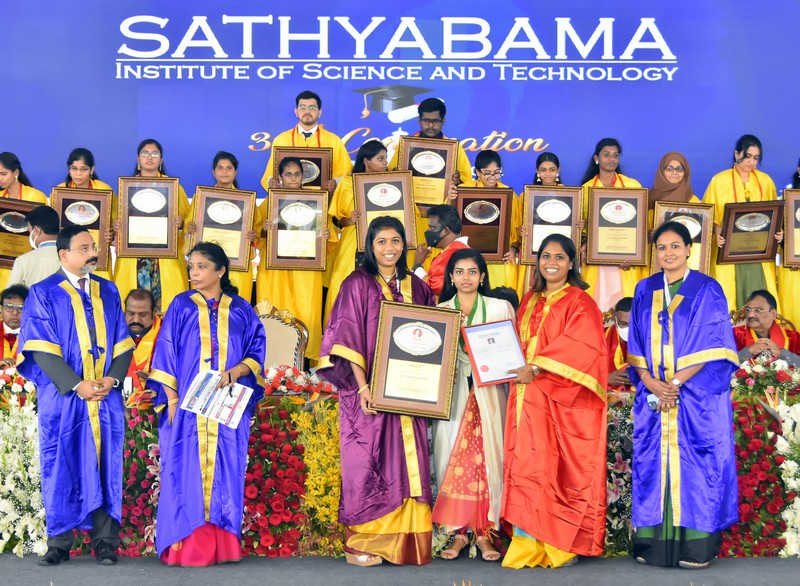 Sathyabama Institute of Science and Technology held its 30th Convocation on 25th september, 2021 at the Institution Auditorium, with the blessings of Founder Chancellor Hon. Colonel Dr.Jeppiaar. This Convocation was presided by Hon. Chancellor Dr. Mariazeena Johnson, President Dr. Marie Johnson. Vice President Ms. Maria Bernadette Arul Selvan, Vice President Mr. J Arul Selvan.
Honorary Doctorates (Honoris Causa)
Honorory Doctorate recipients Thiru. A. RAJARAJAN, Distinguished Scientist and Director, SDSC SHAR, ISRO, Sriharikota.
Expert in the area of Composites, who has configured & developed state of the art Solid Motor production and launch vehicle integration facilities.
Honorory Doctorate recipients – Thiru. G. RAMAGURU, Outstanding Scientist, Programme Director- AGNI, ASL, DRDO Hyderabad.
Contributed significantly for the development of Agni mission and various other indigenous design development in DRDO.
Honorory Doctorate recipients – Thiru. S. XAVIER BRITTO, Chairman, Kerry Indev Logistics PVT. LTD
Promoter of Kerry Indev Logistics, which is the one top Logistics company; Motivational Speaker; Social service.
Honorory Doctorate recipients – Dr. J. JAYARAJAH, Senior Consultant Cardiologist, Sooriya Hospital , Chennai
Well known Cardiologist, having more than 30 years of experience as Doctor, Teacher and Consultant.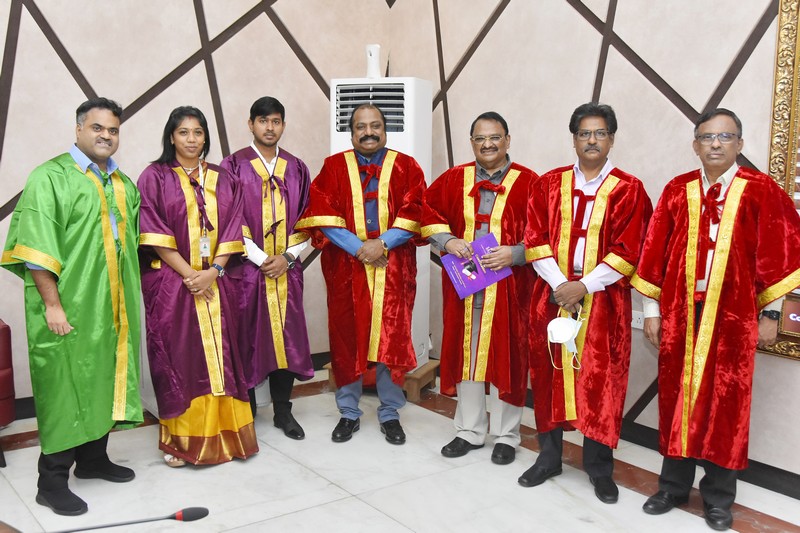 Honorory Doctorate recipients – Thiru D. IMMAN, Music Director and Composer
Working as music composer at the age of 15 and composed music for more than 100 films.
A total of 2892 graduants received the Degree Undergraduates, 386 Postgraduates , 10 Diploma in Pharmacy and 145 Ph.D scholars received their degrees. Among them 24 students are awarded with gold medals for their exemplary performance in academics.
Sathyabama maintain high and consistent Campus Recruitment statistics over the years. We are delighted to mention that 257 companies have visited us during the academic year 2020-21 and 91.60 % of our students have secured Job offers with a average CTC of 4.75 LPA and the maximum CTC of 27 LPA.
The eminent recruiters list includes Amazon, Oracle, Microsoft, Siemens, Cognizant, Capgemini, TCS and Wipro.
Sathish Dhawan Space Cerntre Director A. RAJARAJAN, delivered convocation address, Every person is a student for life. Because the universe never stops teaching us and learning constantly happens, irrespective of our being conscious of it or not. Learning is as much about learning to unlearn the unwanted, as it is about learning what is necessary. Unlearning is a power only humans possess. With high motivation students should work as they have to face lot of setback along with their career.
Productive working is created only after having the mind set of happy and hungry aspiration towards innovation path. Students could develop many startup innovations and technological solutions to the various problems.
some of the existing opportunities and innovations are
*"Green propulsion method with water as by products"
*Cost reduction in the propulsion systems and
*method of aircraft propulsion systems at higher altitudes
*Water splitting methods available
He added Government also supports lot of startups and innovations by means of SEED money and other funds towards research. Realize your potential what you can do in the field only if you know what you can!