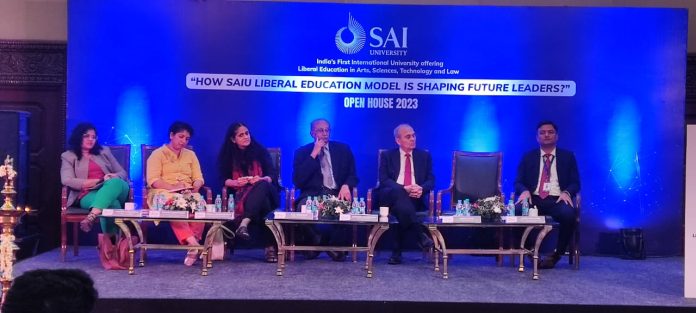 Sai University Chennai : Liberal education is a learning approach that teaches students how to think independently and develop broad academic and intellectual abilities through an interdisciplinary and multidisciplinary approach
Sai University Chennai (SaiU), is one of India's first International universities to offer liberal education in arts, sciences, technology, and law. In this talk, you will understand how the SaiU liberal education model will empower undergraduate students through theory, practice, and performance.
The top reasons to pursue liberal education enabled undergraduate education is
Interdisciplinary and Multidisciplinary approach to learning
Team teaching with case studies and interactive classrooms
Enabling critical thinking capabilities
Enabling students to solve real-world problems
Enhancing students' social responsibilities
India's National Education Policy (NEP) 2020 has laid out a path for universities to adopt a liberal arts, multidisciplinary, discussion-based, and discovery-based mode of education and Sai University is a proud early adopter of the NEP 2020 model.
In the talk organized by the Sai University on the topic, "How SaiU Liberal Education model is shaping future leaders?", Mr. K.V. Ramani (Founder and Chancellor) said 'In this AI era, the tech companies are looking for young talent who pursue an Interdisciplinary liberal education model. Sai University delivers undergraduate education in this interdisciplinary and multidisciplinary model through 30% international faculty from institutions like Stanford, Harvard, and 70% of Indian faculty who are proud alumni of top global institutions.'
Followed by the talk, Prof. Jamshed Bharucha added that "There are lakhs of BTech students graduating each year but they lack the requisite skill sets to be employable assets in the technology sector due to their conventional and siloed mode of learning. At SaiU, we always say 'Spark the Imagination and Liberate the mind' where we encourage students to learn across disciplines rather than constrained rote learning.
Followed by the SaiU Leadership team, the Deans of three schools at SaiU, Dr. Reena Patel (School of Law), Dr. Akhila Ramnarayan (School of Arts and Sciences) and Dr. Kavita Deshpande (School of Computing and Data Science) addressed the audience on how the SaiU interdisciplinary UG program is creating the future leaders. Dr. Anjana Raghavan (Director, Student Life, SaiU) spoke about how providing an engaging student experience will enhance their learning outcomes.
The event also addressed the SaiU applicants and students of SaiU where they connected with our Chancellor, Vice Chancellor, Faculty, SaiU students, and Admissions team to understand the UG programs, liberal education curriculum, and student life at SaiU.