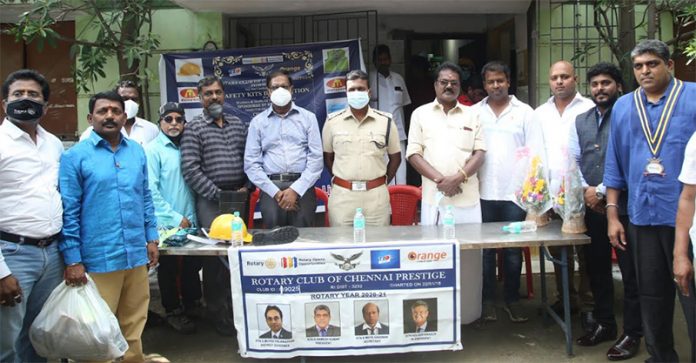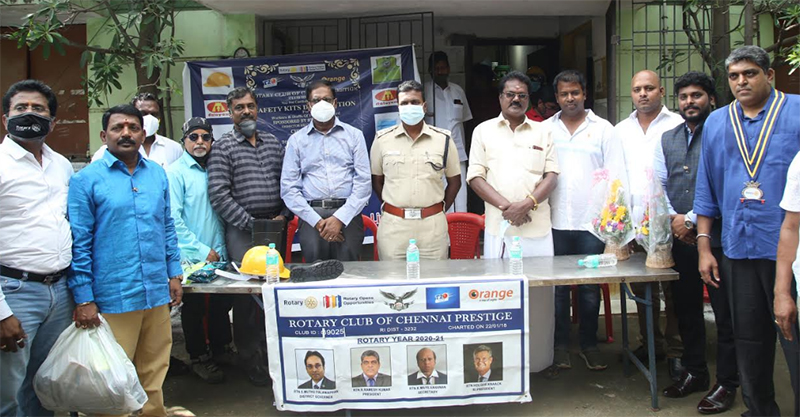 Safety Kits Distribution to Workers & staffs of Panchayat Boards by B.SAMPATH KUMAR, Assistant Commissioner of Police.
B.Sampath, Assistant Commissioner of Police, Rtn. Sridharan, District Governor Nominee 2020-21 and D. Ravikumar, Inspector of Police, SRMC, Iyyappanthangal distributed safety kits to 150 workers and staffs of Iyyappanthangal and Bharaniputhur Panchayat Boards at Panchayat Board Office, Iyyappanthangal.
Safety Kits to workers and staffs of Panchayat Boards provided by Rotary Club of Chennai Prestige in association with M/s.Aalayams Auto Tech Private Limited.
The safety kits includes Helmet, Eye Wear, Safety Nitrile Rubber Gloves, Reflective Jackets & Gum Boots Sponsered by RTN. R.Suresh, Director of health services and also provided food for 5000 people in and around Iyyappanthangal.
Rtn. Ramesh Kumar – President 2020-21, Rtn.K.Myilvahanan-Secretary 2020-21, Rtn.Vishwanathan-Treasurer 2020-21 and Rtn. Vignesh participated along with other Rotarians in this great gesture.