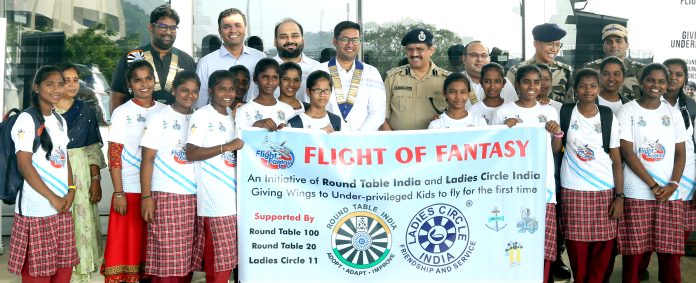 Round Table India makes dream come true for 15 Under-privileged girl students under Flight of Fantasy initiative.
Volunteers from Madras Anchorage Round Table 100 have been supporting kids from SRS Sarvodaya Girls Hostel. the team reached out to the children and asked about their dreams and wishes for which many children expressed their desire to fly on an aircraft. Round Table India does a specific event called "Flight of Fantasy" across India. Following this, the children were taken on a flight from Chennai to Coimbatore today and back to Chennai.
A day long excursion is planned in Coimbatore in association with Coimbatore North Round Table20 and Coimbatore North Ladies Circle 11. This is the second year of this joint initiative of Round Table 100, 20 and Ladies Circle 11.
Area Chairman Tr.Vijayraghavendran and Chairman Tr.Vipul Jain said that  "Round Table 100 have been supporting the Girls from SRS Sarvodaya in many of its initiatives such as Diwali hampers, Diwali celebrations, providing necessary stationary amongst others. These are well deserving girls with a vision for their future. We do understand that flying in an aircraft would be desire of many orphan kids, and we are glad to give this experience to 15 girls from SRS Sarvodaya. Apart from the aircraft experience, a day long of fun games and activities are planned in Coimbatore"
Chairman Round Table 20 Tr.Jeetendra Sabarwal and Chairman Round Table 100 Tr.Vipul Jain jointly said that "The dreams of 15girlschildren totravelby air came true on Saturday as they embarked on a journey to Coimbatore from Chennai. "Flight of Fantasy". an initiative for the underprivileged children which was continued this year as the flight took off on November 05, 2022, at 9.30 am from Chennai international Airport. The organisation also planned exciting games for children in a gaming arena in Coimbatore where they can play with good food to their heart's content .Their return from Coimbatore on the same day was scheduled by aeroplane. "This initiative is planned to bring smiles to the faces of those children who are deprived of the happiness they deserve;
Tr.Vipul Jain Chairman also said that "We are absolutely thankful to the Director of AAI Shri Dr.Sharad Kumarji, Manager of Facilitation Ms. Kishwer Jehan, CISF Commandent Shri. Sriram and the whole of AAI for all their support in supporting this noble cause and ensuring that the kids have the best experience while they fly for the first time".
Tablers of Round Table India, Mr. Vijayaraghavendra Area Chairman, Mr. Vipul Jain, Chairman RT 100, Mr. Jeetendra, Chairman RT 20 and others member of Round Table India were present for the event.