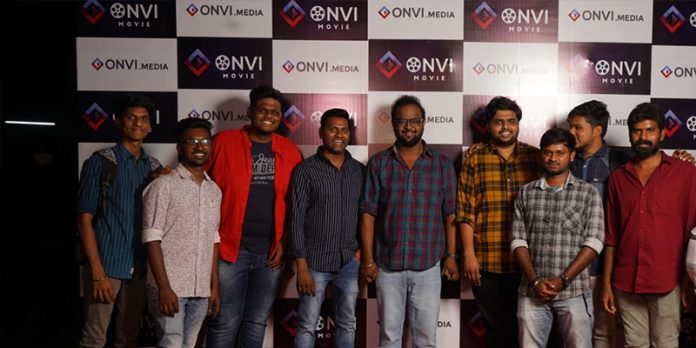 'ONVI.MOVIE', India's Exclusively Pay-Per-View OTT for Movies, Launched with an exclusive movie Preview show
Chennai, 'ONVI.MOVIE', India's exclusively pay-per-view OTT platform for movies and other video entertainment content such as feature films, short films, web series, and other independent films, was launched with an exclusive movie Preview show held in Chennai.
A venture of ONVI.MEDIA, a proprietary OTT technology company, 'ONVI.MOVIE'  currently streams content in Tamil, Malayalam, and Hindi. It is signing up with producers in all other Indian and global languages. Customers can watch movies on 'ONVI.MOVIE'  from any digital screen – mobile phones, computers, and smart TVs.
"Bullet Baba" and "Sweet Biryani" from Onvi. movie were screened at this event. And to make it even more special; the 'Kaithi' & 'Master' fame director Lokesh Kanagaraj tweeted his congratulations on the movie "Bullet Baba".
Actor Vivek Prasanna, Deepak Paramesh, Director Ehil Nambi, 'Trip' film producer Praveen,
'Sixer' film producer Dinesh Kannan, Mr. C. Kamaraj (IAS), Mr.S. Kannan (IAS) and a couple of journalists participated in support.
'Nakkeeran' Gopal showed up and made a special speech in patronage commenting on the
various talents. He said, "I'm very happy to see this great effort poured into the movie. It will be very useful for the youth who come with their dreams to create/direct with the help of Onvi. Both the films screened were very good. This place will be a good start for them. You do not have to pay for a month, you can only watch your favorite films that you want and that too for a small fee. I'm glad the next phase of technology is here. Congratulations to both the film crews."
Everyone can watch the movies released on Onvi. movie for a very low fee and choose the
movies that people all over the world want without any restrictions. The company is also
currently in the process of contracting filmmakers to release a series of films, web series, and short films on Onvi. movie. All the fees for the released films are transferred directly to the producer / director. Producers can release movies, short films, documentaries and web series on this digital theatre free of charge. We do not have ads like other platforms. It is also worth noting that the Onvi. movie company will soon become the preferred choice of producers and directors who want to release films, short films, web series and other content in India in support of creators and regional content.
ALSO READ:
'ONVI.MOVIE', India's Exclusively Pay-Per-View OTT for Movies, will be Launched on 5th March 2021