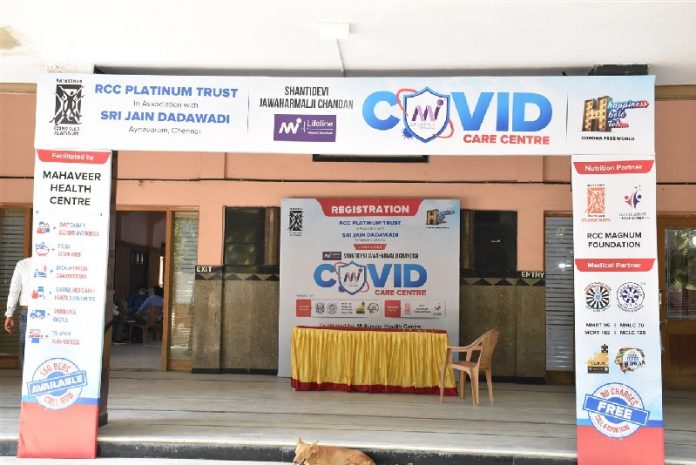 Minister of HR&CE Mr.PK Sekar Babu Inaugurated 150-bed Covid Care Facility at Mahaveer Bhavan Ayanavaram Chennai
RCC Platinum Trust in association with Dadabadi Sri Jinkusalsuriji Jinchandrasuri Trust, 150-bed Covid Care Facility inaugurated

 by Minister 

Thiru Sekar Babu

 

at Mahaveer Bhavan, Shri Jain Dadawadi

, Ayanavaram
Chennai. The facility was inaugurated by Thiru Sekar Babu, HR&CE Minister, Government of Tamil Nadu, in the presence of Thiru Kalanidhi Veerasamy, MP, Thiru Thayagam Kavi, MLA and Philanthropist Shri Praveenji Chandan.

The facility is absolutely free of cost for anyone who tests positive for Covid-19. Some of the facilities available at the center include round the clock experienced medical team including doctors and nurses, satvik food, ambulance on call, blood test for further diagnosis, clean and neat hygienic ambiance, oxygen support for mild patients, general medicine and tie-up for scan and ICU beds.
 In order to seek the facilities of this center patients just need to call +91 98410 98765 or +91 73052 63629. The patients have to just submit their Covid Test Report and CT Scan Report for doctor's review.

MI LifeStyle from the family of Shanti Devi Jawaharmalji Chandan are the main sponsors for the Covid Care Center. RCC Magnum Foundation are Food and Nutrition Partners for the entire period the covid care center would operate and Round Table 95 and Round Table 162 have partnered for all medical supplies and are taking care of all tests required for the Covid Care Center.
The covid care center is an initiative of RCC Platinum Trust. RCC Platinum Trust also runs Paani, a clean drinking water initiative, since December 2012 and has installed RO Based Water Purification Systems at 66 schools, hospitals and public places. The Paani project at RCC Platinum is run under the aegis of Shri Manoharraj Kamal Kankaria Charitable Trust. Over the last 15 years, RCC Platinum Trust has been distributing blankets, survival kits, Montessori teaching aids to a variety of institutions ranging from orphanages, old age and destitute homes, slums, Anganwadis, slums and roadside in order to provide basic necessities of shelter and upbringing. Over the years we have donated over 60,000 sets of blankets, sleeping and survival kits, provided teaching aids to over 3,000 Anganwadi children.
Also Read: