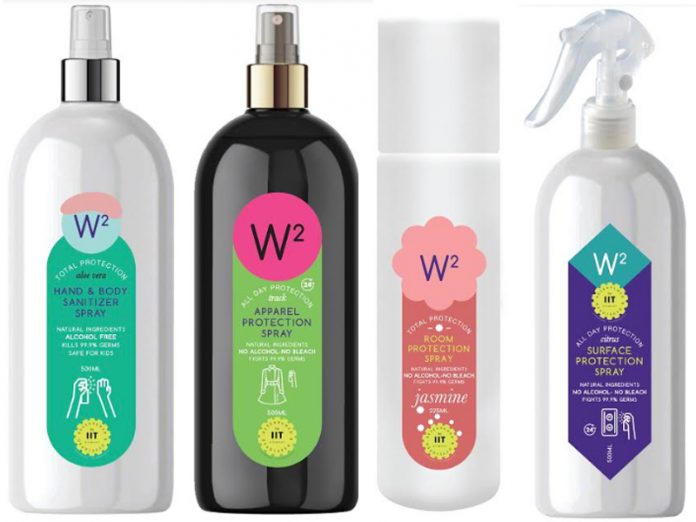 Life Essentials Personal Care Pvt Ltd launches all Natural, No-Alcohol Covid-19 Protection Spray Range
In a first, Life Essentials Personal Care Pvt Ltd launches all Natural, No-Alcohol – No Bleach Protection Spray Range, which provides protection from bacteria, viruses including COVID 19 and fungi: Based on licensing of the EcorsaniTM technology developed by IIT Bombay
The EcorsaniTM technology has been tested to inactivate the SARS-nCOV2 (COVID 19) Virus
Chennai, Oct 13 2020: Life Essentials Personal Care Pvt Ltd today launched a path breaking and innovative range of No Alcohol – No Bleach Protection Sprays. Named 'W2 Protection Spray Range', the product has been scaled up, manufactured and commercialised by Life Essentials and is based on licensing of the ECORSANI technology developed by IIT Bombay.
EcorsaniTM technology by IIT Bombay relates to biodegradable, safe, GRAS approved compositions. The materials are safe for human contact and are free from harmful chemicals or alcohol. The EcorsaniTM formulation is antibacterial, antiviral and antifungal and on direct application has inactivated coronavirus samples. The active antimicrobial agents from natural sources, inactivate bacteria (Gram positive & Gram negative), fungi (Yeast & Mold) and viruses (Enveloped & Non – enveloped). The actives act by charge and surface activity to disrupt the cell wall of bacteria and fungi and the envelope of viruses. This technology when tested on SARS-nCOV2 (COVID 19) virus on direct application has proven to inactivate the Covid 19 virus.
The W2 Protection Spray Range includes – W2 Apparel Protection Spray, W2 Room Protection Spray, W2 Hand-Body Protection Spray and W2 Surface Protection Spray. The efficiency and effectiveness of the W2 protection sprays is analogous to 70% alcohol and 1% hypochlorite based solutions. The alcohol and bleach free products have been formulated with a blend of all-natural, biodegradable, safe to use and made of GRAS approved composition (Generally recognized as safe (GRAS), a US-FDA designation that certifies ingredients are safe ). Unlike the current range of available products in the market, this spray is free from toxic chemicals.
The W2 Apparel Protection Spray when directly applied on clothes ensures protection from viruses, bacteria and fungi for up to 24 hours. This can be sprayed on your clothes before leaving the house and it will give you an all day protection from germs. The W2 Room Protection Sprays can be used for protecting one's home or carrying it along so that it can be sprayed wherever one goes, be it an elevator, a cab, metro, office or a restaurant. The third variant – The W2 Hand and Body Protection Spray can be applied to hands and any of the exposed body parts. The formulation of this product has been approved by the Ministry of AYUSH and is devoid of harmful chemicals. The product is completely safe to be applied on the hands before eating and the added moisturization prevents the hands from getting dry and rough. The W2 Surface Protection Spray once applied on any hard surface like wood, tiles, metallic surfaces, can give protection for up to 24 hours. Formulated to be safe for children and adults, the W2 Protection Spray Range comes in mild fragrances and keeps you and your surroundings protected.
Speaking on the launch of the new range, Mr Amandeep Singh, Director, Life Essentials Personal Care Pvt Ltd, commented, "There is an urgent need for personal protection, for the public at large and especially the people who are going out of their houses every day. Our products are made to minimise the risk you and your loved ones face when they are going out or when someone is coming to your home or office. Our Protection Sprays give you the freedom to step out minimising the fear of contracting the deadly virus and adapt to the new normal without much worry of the side-effects of alcohol and bleach based products. The products are available across India through our website www.w2whywait.com and e-commerce platforms like Amazon & Flipkart."
Spearheading R&D for the technology, Dr Rinti Banerjee, Chair Professor, Dept of Biosciences and Bioengineering, IIT Bombay, said," We have been working on safe, and natural products that kill bacteria even before the pandemic. During this period, we modified and fine tuned our technologies to be effective against viruses and fungi also. EcorsaniTM technology (patent filed) is composed of natural, biodegradable ingredients known to be safe for human use and is free of alcohol or bleach. The formulation shows very strong antiviral, antibacterial and antifungal effects and is equivalent to 70% alcohol in effectiveness. We are very happy to partner with our Licensee Life Essentials for launch of the W2 range of products incorporating this technology. This technology provides us a safe alternative for antimicrobial protection.'
Over the past few months, Coronavirus has completely changed our lifestyle especially our hygiene habits, while these habits are here to stay it is very important we make conscious choices in choosing products that we are exposing ourselves to. The W2 range is a part of Make in India initiative of the Government and is supported by Government of India COVID ECLG Scheme – Made in India, Made for the world. Life Essentials plans to invest 30 Crores into the development and distribution of its products over the next one year. These investments will be funded by internal accruals as well as by external investments. The range of products by W2 minimise the risk of health complications which chemical based sanitizers and protection sprays may cause in the long run. As the Ministry of Housing and Family Welfare announce the Unlock 5.0 guidelines and more and more people step out of their homes, especially the vulnerable segment of the society including children, protection sprays such as the Apparel sprays and Surface Sprays which have the power to protect us against bacteria, virus and fungi for up to 24 hours will act as our personal safety cover.