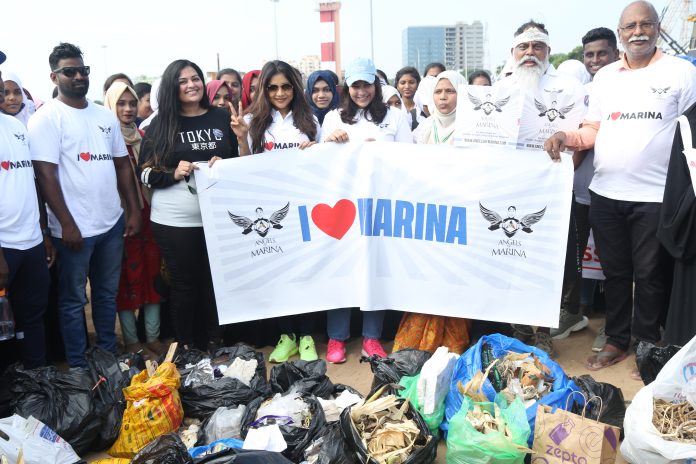 International Coastal Clean-up Day Celebrated in style at Marina Beach!
 Actress Sakshi Aggarwal, Blessing A. Manikandan, Founder Angels of Marina, Tattooist Mallika Chaudhary, Celebrities, Volunteers and others along with 1500 school / college students and corporates involved in a mega cleanup drive on the Marina beach and removed around 5 tons of garbage on the occasion of International Coastal Cleanup Day.
International Coastal Cleanliness Day is observed on 17th September every year across the world. As a part of the 10th year anniversary celebrations of Angels of Marina along with many organisations it has organised a grand cleanup drive at Marina Beach, Chennai.
In this regard, Blessing A. Manikandan said that since 2012 every Sunday morning he used to clean the marina with his family, friends and volunteers. He said that hundreds of volunteers and people from different part of the country visits & engaged in cleaning the Marina Beach. Angels of Marina is an initiative for Clean, Green, Safe & Great Marina Beach & Ocean Across the World. In December we are celebrating our 10th Anniversary and the spirit of volunteerism with a beach festival, conference, workshop and awards night. We invite corporates, brands, celebrities to volunteers to be part of this grand vision and take this initiative to all the beaches in this world.
Actress Sakshi Agarwal and her entire family for the clean up. She has been the brand ambassador & voice for this noble initiative since 2014 to create awareness about keeping the beaches & ocean clean.
Sakshi Said "We are very proud that we made a successful clean up today where 1500+ volunteers covered the stretch of 2 kms and collected 350 bags (650 kg's) of garbage's. I am reallly proud to be part for this great vision".
"It was amazing to see so many people helping to keep the Marina clean and restoring it. Every week Blessing Bro and his Angels comes to Marina for beautifying her. I hope more people join in and make our city proud, as Marina is our proud of Chennai " says Mallika Angela, Influencer and Tattoo Artist.
Who ever comes to Marina and do anything to make her clean and beautiful will be called as an Angel of Marina" says Blessing A Manikandan, who is a real blessing to Marina. We love Marina but Marina Loves you Blessing.
Aloha K Kumaran,Trustee, Angels of Marina,
Naturals C K Kumaravel,
Trustee, Angels of Marina
Hafiz,
Founder, Communitree
Thangaraj,
Teacher & District Coordinator, National Green Corps
Mallika Chaudhuri, Daisy Dhanalakshmi, Senior Vice President of TONI&GUY snd few known faces were seen during the activity. All the participants were given special t-shirts, badges and certificates by Angels of Marina organization.