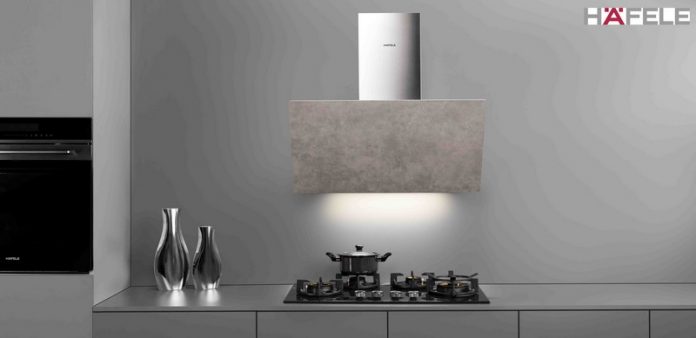 India's first intelligent filter-free cooker hood by Häfele
Whether tempering spices or stir-frying vegetables, the culinary diversity seen in an Indian kitchen is unlike any other. The frequency of cooking meals in the kitchen, on an average, is also higher as compared to kitchens internationally. It is hence a given that establishing a good cooking system in the kitchen is crucial.
While the traditional tadka of spices, mustard seeds and curry leaves in hot oil provides a fragrant and flavourful note to the dish, the fumes created in the process may leave you coughing and sneezing, distracting you from the task at hand. Häfele introduces India's first intelligent filter-free cooker hood – TERESA i-90 Plus, which comes equipped with a filtration capacity 2.5 times that of ordinary filter hoods. Created with enhanced intelligence, this can detect not just fumes but other harmful volatile organic compounds (VOCs) in the air inside your kitchen with its perceptive air quality sensor and can automatically work towards eliminating them.
The Nautilus Design of the impeller housing the TERESA i-90 Plus helps in throwing out large volumes of exhaust with the least amount of turbulence and noise (49dBA), hence preventing a backflow of smoke and providing extremely quiet operations! The Active 3-Layer Centrifugal Filtration System effectively separates the oil, moisture, wet smoke and dry smoke from the fumes captured. The oil, moisture and wet smoke from the fumes hit the oil net and get accumulated in the oil collector while the dry, lighter smoke is thrown out through the duct.
Being a filter-free hood, the TERESA i-90 Plus does not require regular inspection and cleaning, ensuring efficient function for a longer period of time. While it undoubtedly excels in performance, it does not leave aesthetics far behind. Its contemporary rose gold accents, classic black glass finish and minimalistic feather-touch controls bequeath your kitchen with enhanced elegance.
Features:
Filter-free technology in TERESA i-90 Plus provides relief from the traditional problems of clogged filters. Thecooker hood thus works efficiently for longer intervals of time
New generation, powerful 830 pa DC brushless motor with copper windings,angled at 30°,for effective extraction (captures 98% of the smoke emitted)
Wide Smoke Extraction Panel ensures a minimal smoke backflow. The panel is angled at 110°, which aids in locking grease and smoke before they start spreading
Auto-turbo system increases the extraction power automatically when smoke resistance or smoke backfilling is detected
Active 3-Layer Centrifugal Filtration System effectively separates the oil, moisture, wet smoke and dry smoke from the fumes captured
Oil-collector with eyelet accumulates oil and wet smoke from the fumes
Intelligent air quality sensor automatically detects air irritants and works towards eliminating them
Auto Open Panel unfolds itself when the cooker hood is switched on. This is not only an ergonomic feature but also effective in capturing maximum volume of smoke before its dispersion
Hassle-free maintenance with detachable smoke panel
Minimalistic feather-touch controls for ease of operations