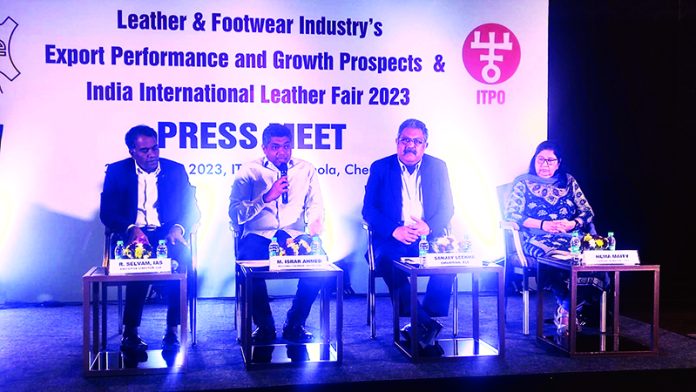 Indian Leather and Footwear Sector aims to achieve USD13.7 billion export by 2030 India International Leather Fair 2023 and related events to open-up new opportunities for the sector
"The Indian leather and footwear sector is aiming to reach an export turnover of USD 13.7 billion by 2030 from the turnover of about USD 5 billion during 2021-22" said Shri Sanjay Leekha, Chairman, Council for Leather Exports.
Shri Sanjay Leekha added "The entire world is now looking at India as a major and reliable supplier of value added products. The leather and footwear sector aims to ensure optimum utilization of the emerging business opportunities and substantially enhance its exports in the coming years. Exports are already showing good growth momentum this year. Export of leather, leather products and footwear have registered substantial growth this year, reaching USD 4.25 billion during April to December 2022 as against USD 3.63 billion during April to November 2021, registering 17.08% growth. With a huge and growing global market, we see very good opportunities for growth in 2023 as well".
Series of events scheduled to be held in Chennai (detailed below) as part of India Leather Week 2023, will augment the growth potential of the industry.
The 36th edition of India International Leather Fair (IILF) will be held at the Chennai Trade Centre from February 1-3, 2023 and will have on display the entire range of products relating to leather industry from raw material to finished products also machinery, chemicals, components etc.,.
The inauguration of IILF is at 6 pm on January 31, 2023 at the Chennai Trade Centre. Since this fair is being held after a period of two years, there are lot of expectations on the success of the fair. This fair serves as a platform for not only sourcing but also understanding the latest trends in technologies. Over 400 domestic and overseas companies will be participating in this fair. This fair will witness participation of exhibitors from 16 countries namely Brazil, China, France, Germany, Italy, Mexico, New Zealand, Russia, Saudi Arabia, Spain, Sri Lanka, Taiwan, Netherlands, Turkey, UAE and UK.
Coinciding with IILF, the Council for Leather Exports (CLE) will be organizing the 6th edition of Designers Fair (Feb. 1-3, 2023) at Hotel ITC Grand Chola in which 42 design companies and institutions are participating. This includes 32 designers from 11 countries namely Italy, Russia, USA, Spain, Portugal, Philippines, Australia, Switzerland, Brazil, UK. Besides 10 designers and institutions from India are participating in the fair. The Designers Fair provides a platform to Indian manufacturers and exporters to meet the popular overseas and Indian designers not only to procure the latest designs but also enter into long term business tie-ups in design development.
CLE is also organizing the 3rd edition of Global Perspectives on Indian Footwear & Leather Accessories / Garments Executive Forum Discussion on February 1, 2023 in which growth. industry leaders will be presenting their thoughts on market trends and prospects for
Shri R. Selvam, Executive Director, CLE said "As part of export promotion efforts, CLE is continuing its aggressive market promotion campaign to tap both traditional and potential markets CLE has organized 'Group Participation' of exporters in 13 international fairs and exhibitions and 1 Reverse Buyer Seller Meet (in India) under the Market Access Initiative Scheme (MAIS) of Department of Commerce, Ministry of Commerce & Industry, Government of India during the period April-December 2022.
CLE will be participating/ organising 12 international events during January-March 2023 with MAIS support, which include an Reverse Buyer Seller Meet (RBSM) in Delhi (March 21-22, 2023) and a Designers Fair in Chennai (Feb. 1-3, 2023)".
Shri Sanjay Leekha, Chairman, CLE added "We thank the Government of India for implementing the Indian Footwear & Leather Development Programme (IFLDP) for our sector, with an outlay of Rs.1700 crore. This scheme will immensely help in making further gains in crucial areas namely capacity modernization & Technological upgradation of production units, upgradation of CETPS, promotion of Indian brands etc., I am happy to inform that project proposals to the tune of Rs.3701.16 Crore and estimated Government grant of Rs.1578.46 Crores have already been submitted through National Single Window System (NSWS) of IFLDP Scheme. Thus, 93% of the outlay utilization is already committed by the industry, which is a big achievement for the IFLDP programme".
Shri Sanjay Leekha added "We expect additional support measures for the sector in the upcoming Union Budget 2023-24 and also in the Foreign Trade Policy which will further catalyze our growth. As far as Union Budget is concerned, we have requested for reinstatement of import duty exemption on wet blue, crust and finished leathers and also addition of new inputs under Import of Goods under Concessional Rates of Duty (IGCR) Scheme. Consideration of these requests in the budget will help in increasing the export of value added products from the country".
On the whole, the India Leather Week 2023 will witness a flurry of events which will openup new windows of opportunities for the overall growth and development of Indian leather and footwear sector.
Over 400 participants from India & Abroad
Unveiling the export potential of Indian Leather Industry, the 36th edition of India International Leather Fair (February 01-03, 2023) aims to project India as an ideal investment destination and manufacturing as well as hub for design and innovation.
This annual flagship event will be inaugurated by Thiru R. Gandhi, Hon'ble Minister for Handlooms and Textiles, Boodhan, Gramadhan, Government of Tamil Nadu at 6.00 PM on January 31, 2023 at Chennai Trade Centre, Nandambakkam, Chennai, Tamil Nadu. Inaugural ceremony will be graced by Thiru Siva V. Meyyanathan, Hon'ble Minister for Environment and Climate Change, Government of Tamil Nadu.
Apart from its pronounced business dimension, the fair also offers an excellent platform to demonstrate India's export and investment potential in the leather sector. The fair is being organised by the India Trade Promotion Organisation (ITPO) with collaboration of the Council for Leather Exports (CLE) and other apex leather bodies. IILF, Chennai has evolved as one of the most prominent specialised event of leather and accessories, footwear component, synthetics material footwear, leather goods, machinery, chemicals, equipment and technology in the international calender of the events.
Covering an area of 10,000 sq.mtrs, IILF 2023 features a wide range of products, machinery and equipment from over 400 companies from India and abroad, including about 61 exhibitors from overseas. The event is being hosted with support of apex bodies including the Central Leather Research Institute (CLRI), Indian Shoe Federation (ISF), Indian Finished Leather Manufacturers & Exporters Association (IFLMEA) and Indian Footwear Component Manufacturers' Association (IFCOMA).
Foreign participation will lead to the exchange of ideas and technology among the participating countries in the region.
The display profile covers: Finished Leather & Synthetic materials, Chemical & Leather products (Convention Centre), Machinery & Equipment, Technology (Hall 1- A,B,C), Chemicals, Components (Hall 2,3), Finished Leather, Synthetic material, Chemicals & Components (Hall 3A) and Finished Leather, Synthetic material, Chemicals & Components  (Convention Centre).
Visitors profile in IILF 2023 covers: Overseas business delegations and visitors, exporters, manufacturers & importers, buying houses, suppliers, consultants, opinion makers, retailers, equipment & machinery suppliers, marketing & direct selling companies.
For more details