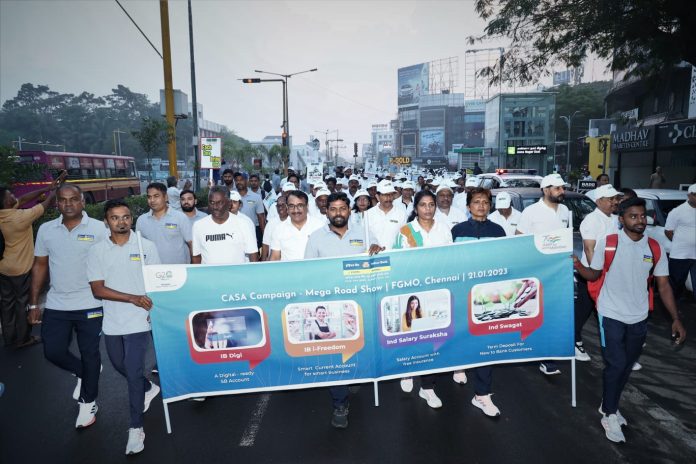 Indian Bank Conducts Mega Road show on CASA Campaign in Chennai
Chennai, 21st January 2023: Indian Bank today organized a Walkathon led by Mr Mahesh Kumar Bajaj, Executive Director to create awareness among the existing customers as well as general public at Annanagar, Chennai. More than 350 staff members, including senior officials from Corporate office, Field General Manager Office, Chennai and nearby Zonal offices of the Bank participated in the campaign displaying banners and placards on various deposit products offered by the Bank.
Staff members interacted with joggers and morning walkers in the Annanagar Roundana and Park area and explaining to the general public about array of products viz., Ind Shakti Term Deposit for 555 days and other Deposit / Digital products etc. Pamphlets with information on Bank's products and Tab Banking Facility were also distributed.
Olympian Shri Vasudevan Baskaran, Padmashree Awardee, Captain of Indian Hockey Team which won Gold Medal at Moscow Olympics and Olympian Ms Manjima Kuriakose, Asian Games Gold Medalist, graced the occasion as Special guests.