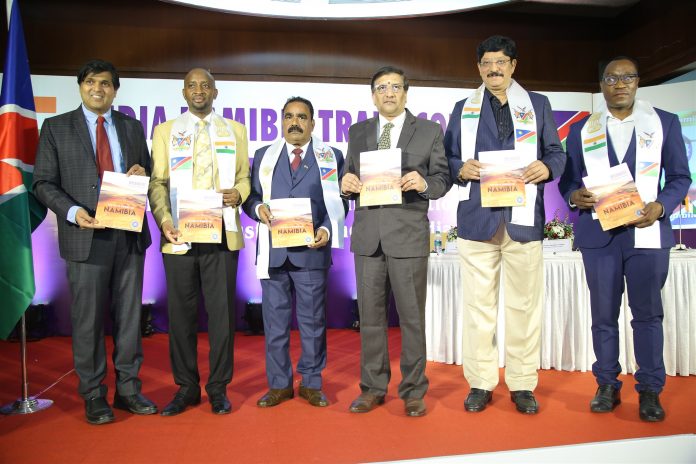 India Namibia Trade Forum inaugurated by Namibia Trade Commissioner – Dr.P.Radhakrishnan
The  trade Desk of the India, Namibia Trade Office opened in Chennai for building up for accelerating trade and business relations between both the countries.The India Africa Trade Council (IATC) in collaboration with the India Namibia Trade Forum (INTF) opened the Namibia Trade Commission Office at Ashok Nagar, Chennai.
The Namibia Trade Commission office was inaugurated by the High Commissioner of
Namibia to India, H.E. Mr Gabriel Pandureni Sinimbo along with the Trade Attache of
Namibia Mr. Oscar Sikanda, Namibia Trade Commissioner – Dr. P. Radhakrishnan and
other important government officers, industrialists and key personalities.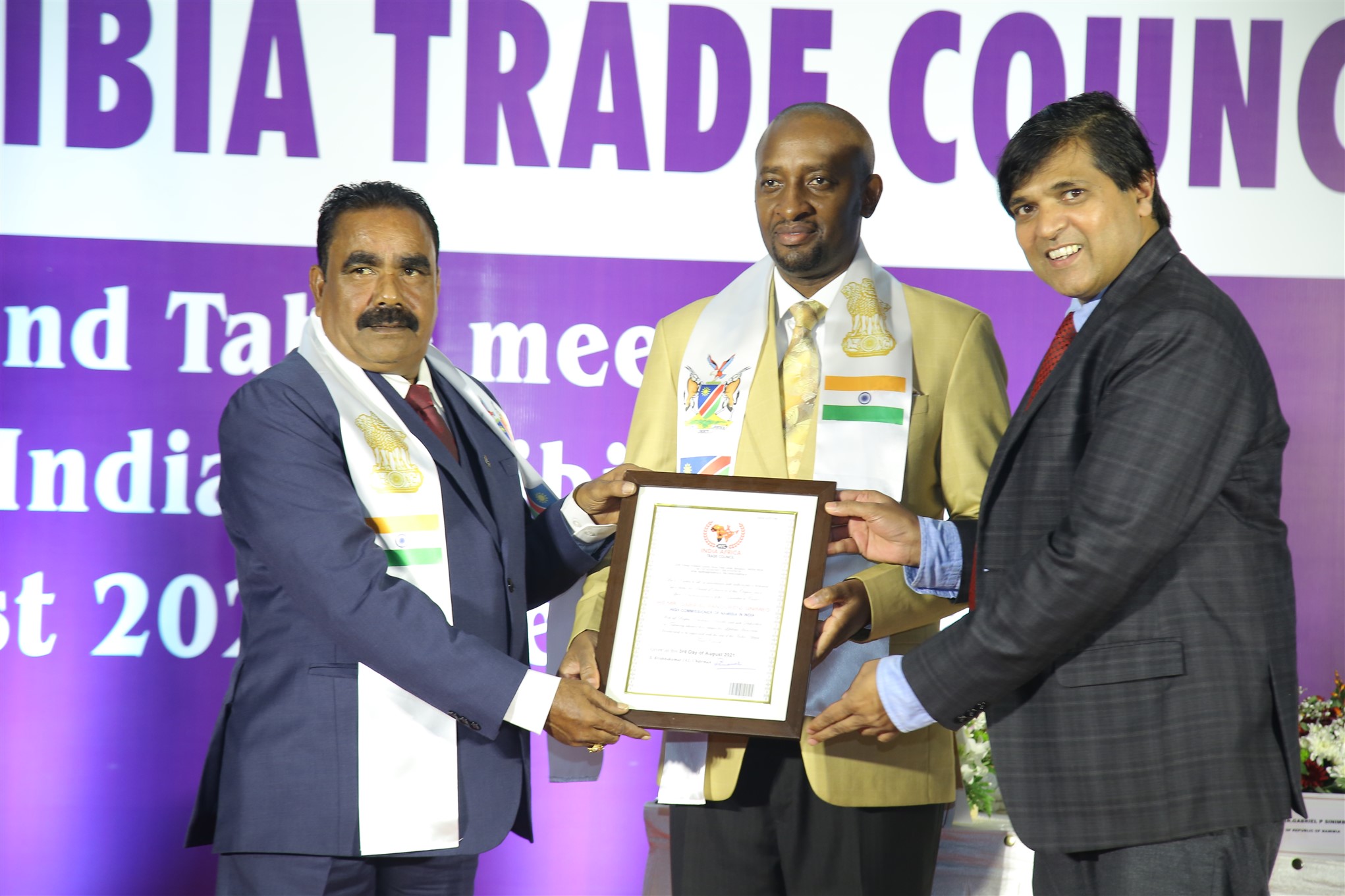 There is a huge
interest in India, as Africa is an emerging region having a great scope for multilateral as well
as bilateral business opportunities. Namibia Trade Commission Office under the guidance
of Dr. P Radhakrishnan (Namibia Trade commissioner) will enforce strong business ties
from India to Namibia. The office will work directly with the Namibian High Commission in
New Delhi and bring opportunities to various cities of India.
India Africa Trade Forum was inaugurated by the Additional Secretary for Africa,
Ministry of ExternalAffairs, and Government of India in the presence of other governmentTrade relations with Namibia have huge potential. SADC region will be at the top of our
priorities as per
the Prime Minister's Vision and MEA's approach in bringing Africa closer,
through the Federation we will
continue to intensify and deepen our engagement with the
African countries which will be sustained and regular. Our development partnerships will be
guided by African region's priorities and we will build as much local capacity and create as
many local opportunities as possible. We will bring the South Indianmarket closer and make
it easier and more attractive to trade "said the President of the Indian Economic Trade
Organization (IETO) Dr. Asif Iqbal during the Inauguration.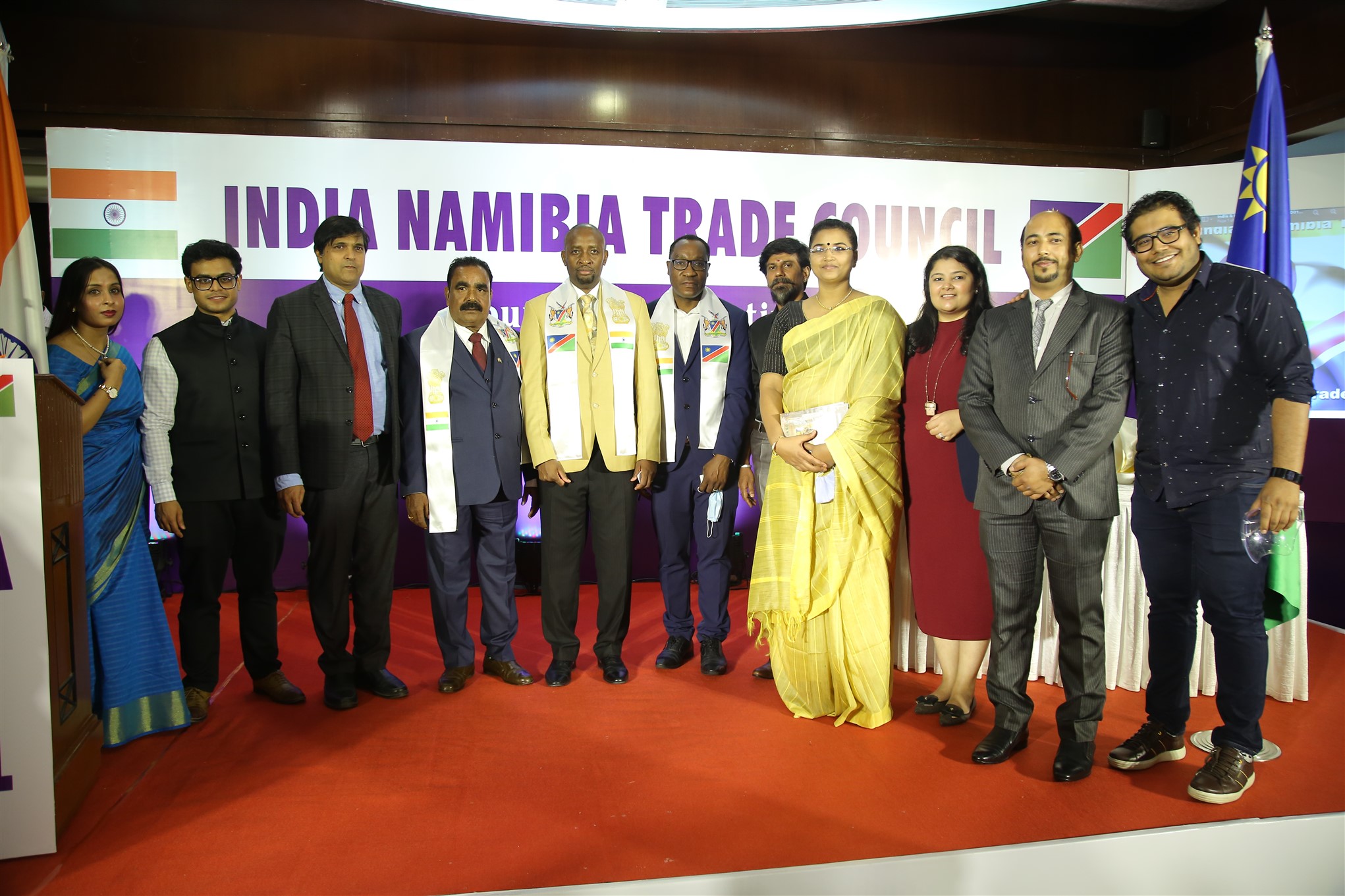 "My goal is to build stronger bilateral relations and reach new heights between Indian
companies and Namibia which is a huge market and also the aspect of bonding with Namibia is
to explore further enhancing the relations. We are initiating a much robust connectivity with
Namibia and will be taking a 50 member business delegation to Namibia with the idea to
further enhance linkage between the two regions and build trust between businessmen" Said
Dr. P. Radhakrishnan, Namibia Trade Commissioner.
India Namibia Trade Forum (INTF) will visit Namibia soon with a 50 member delegation and
various opportunities in the Health sector, Skill development, Agriculture are expected to be
signed with various companies and organizations in this region.
The following program is planned for the Namibia activities:
1. To Establish the India Namibian Film Commission for identifying opportunities in Film
shootings for Bollywood and South India film Industry.
2. Meetings to discuss the possible collaborations in the Healthcare sector and working
strongly for theagricultural collaborations
3. Launching the African Fashion week initiating in Namibia during the time of the delegation.
"Namibia's relations with India date back several centuries and its relationship with India is
directed by the historicity of their interactions – the century-old trade partnerships and
socio-cultural linkages. Wewant to elevate our ties to the next level. We want to elevate our
bilateral partnership; we can come toan agreement that we can elevate it to the level of
strategic partnership. We want to have a dynamic and fruitful dialogue on bilateral and
regional levels. Healthcare from India must enter throughout the SADC region with
Namibia as the centre. Indian Pharmaceutical & health technology is highly appreciated
which should be our key target. Namibia gives huge potential in the agricultural, food
processing and animal husbandry especially for the Indian companies" said High
Commissioner of Namibia to India, H.E. Mr Gabriel Pandureni Sinimbo
Namibia has great opportunities and business community is going to explore this beautiful
African country with the top industries from South India
.