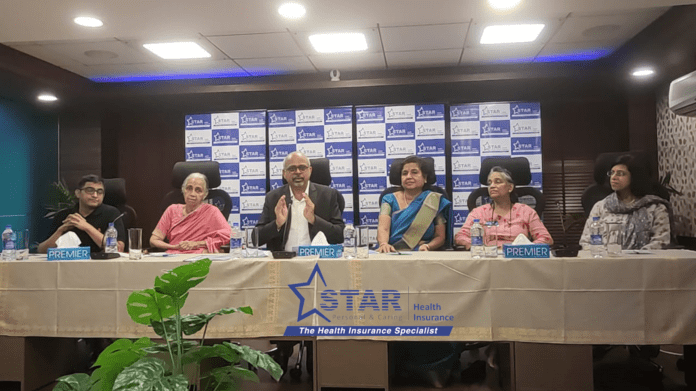 St. Judes and Star Health to Provide Health and Accident Cover to Children Who Beat Cancer
Chennai, 20th Novmber 2021: In an important initiative, children supported by St Jude India ChildCare Centres (St. Judes) during their cancer treatment and who are now cancer free for 5 years, will be provided health and accident coverage by Chennai-based Star Health and Allied Insurance Company Limited. The initiative, launched on November 4th 2021 covers 596 children in its first year [270 children under Health and 326 children under Accident]. Each year at least 500 children are currently expected to be added to this group as part of a new St. Judes programme called St. Judes for Life (Founded in Memory of Mrs Rani Vicaji).
St. Judes for Life ensures that the children who have won the battle against cancer can fulfil their potential by offering them continued support. Providing them with health insurance and accident cover is one such vital step in that direction. This is an important milestone by Star Health, and focuses on a much-overlooked gap in health insurance coverage. Dr Prakash, Managing Director, Star Health and Allied Insurance, has been involved in designing innovative new covers in India. He said "We at Star, designed this cover to enable children who were diagnosed, treated and are cancer free for 5 years fulfil their aspirations without worrying about the cost of meeting medical emergencies.". Cancer survivors who are otherwise healthy are generally not given cover by Health Insurance and in case of a medical emergency or accident it becomes very difficult for them to handle the expenses of hospitalisation.
The Rotary club of Temple City Chennai Coordinated with Star Health insurance to implement this special coverage. "This is an important development in the coverage for children surviving cancer and It has been a privilege working with St Judes in Chennai", said Dr Rekha Shetty, Charter President of the Rotary club of Madras Temple City. Dr Bhuvana Rajendran and Rotarian J. Jagannathan have been closely involved in the project to provide support for children undergoing treatment for cancer in India.
Mr. V. Jagannathan, Chairman and CEO, Star Health and Allied Insurance said, 'Children deserve the best always irrespective of their health conditions. We at Star Health are proud to provide insurance cover to children who have survived cancer. This is crucial as these children can live a normal life and have a right to insurance cover just like anybody else. We will continue to endeavor to provide health insurance cover to every section of society through innovative products designed to meet specific needs."
"Survivors can lead a full life even after treatment and recovery. St. Judes for Life (Founded in Memory of Mrs Rani Vicaji) was set up to support our survivor kids from St. Judes India and enable them to achieve their aspirations after they have been cured of childhood cancer. A major concern for Cancer- survivors as they progress in life is providing for medical emergencies by way of health insurance. Unfortunately, Insurers do not normally cover them. Hence, it is indeed a matter of great pride and happiness to partner with Star Health and Allied Insurance Company Limited, who viewed our proposal with compassion and empathy. " said Ms Usha Banerji, Team Leader, St. Judes for Life (Founded in Memory of Mrs Rani Vicaji).
"It is a privilege to have helped build the bridge between St Judes and Star Health Insurance" said Ms. Shanta Narayanan, President Rotary club of Madras Temple City.