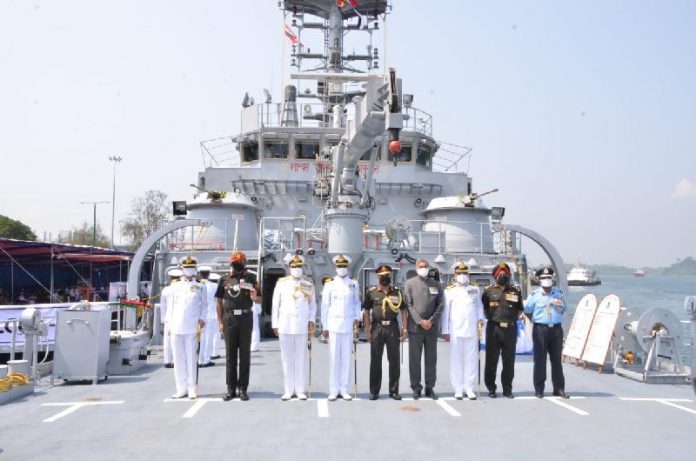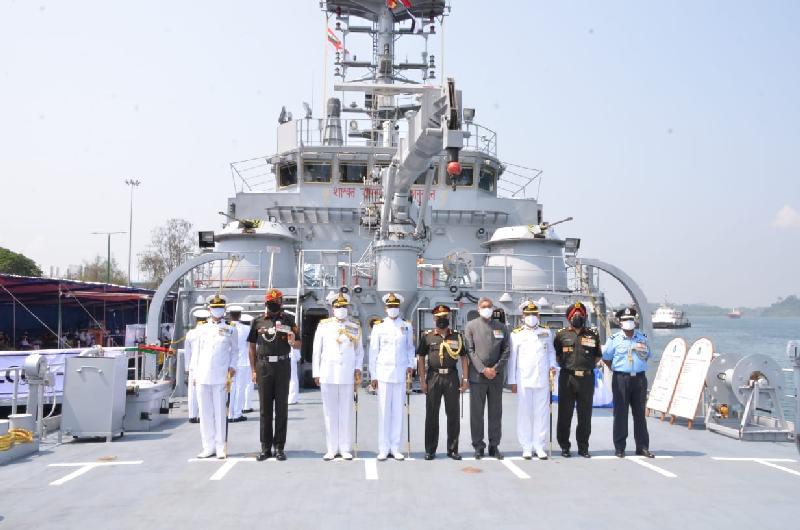 GRSE BUILT INDIGENOUS WARSHIP, INLCU L58 COMMISSIONED
Chennai,  IN LCU L-58, the 8th and the last ship under Project LCU Mark IV, delivered by the shipyard on 31 Dec 2020 was commissioned today at Port Blair in the august presence of Lieutenant General Manoj Pande, AVSM, VSM. (CINCAN – Commander-in-Chief Andaman & Nicobar Command). The ceremony was attended by Rear Admiral VK Saxena, IN (Retd), Chairman & Managing Director, GRSE and other senior officials of the Indian Navy and GRSE.
Over the last 60 years,  GRSE has delivered 788 platforms which include 107 warships, of which 70 were for the Indian Navy, 35 for the Indian Coast Guard, 01 for the Government of Mauritius and 01 for Seychelles Coast Guard which is the highest number of warships built & delivered by any shipyard in the country. The yeoman service rendered by the shipyard to enhance the maritime security of our nation is evident from the fact that the maximum number of ships protecting our maritime interests are built by GRSE.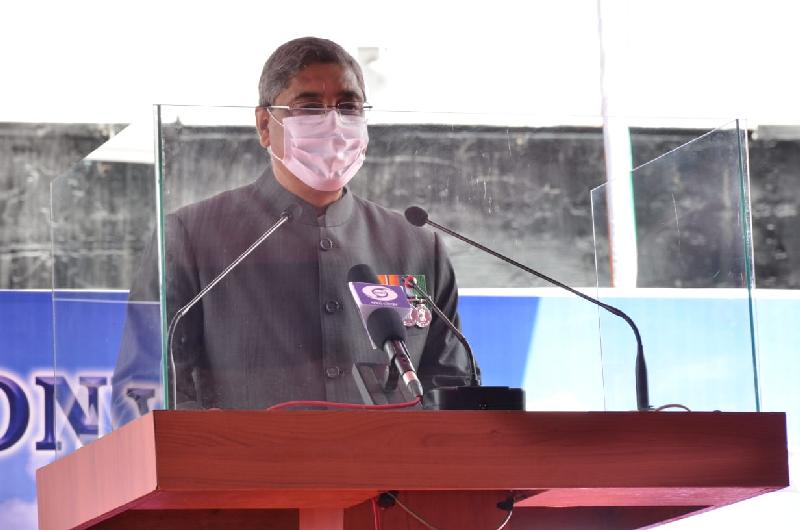 The entire design of the 08 Landing Craft Utility (LCU) Mark IV ships has been developed in-house by GRSE as per requirements specified by Indian Navy including a speed of 15 knots. LCU MK-IV is an amphibious ship with its primary role being transportation and deployment of Main Battle Tanks, Armored Vehicles, troops and equipment from ship to shore. The ships are equipped with Bow Ramps to enable loading/unloading of combat equipment and vehicles upon beaching. These are biggest & fastest Landing Craft Utility vessels worldwide in its category. The shipyard has once again achieved the distinction of over 90% indigenous equipment fit on these ships. These ships based at the Andaman and Nicobar Command, can be deployed for multirole activities like beaching operations, search and rescue, disaster relief operations, supply and replenishment and evacuation from distant islands. The LCU is 63 m in length and 11 m wide and has a displacement of 830 T with a low draught of 1.7 m. The LCU is designed to accommodate 216 personnel and is equipped with two Indigenous CRN 91 Guns to provide artillery fire support during landing operations. The ship is fitted with state-of-the-art equipment and advanced systems like Integrated Bridge System (IBS) and Integrated Platform Management System (IPMS).
Since its takeover by the Government of India in 1960, GRSE has delivered high end warships ranging from Fast Patrol Vessels, Survey Vessels, Landing Ship Tanks, Landing Craft Utility, Fleet Tanker to Frigates and Missile/ASW Corvettes. The shipyard has also made significant advancement towards self-reliance in state-of-the-art warship design and construction and furthered 'Atmanirbhar' Abhiyaan by achieving over 90% indigenous content onboard ASW Corvettes and Landing Craft Utility ships. Having modernized its infrastructure facilities, today GRSE is in a position to construct 20 warships concurrently using Advanced Modular Integrated Shipbuilding Technology in line with the best in the world.
GRSE is currently handling construction of 16 ships as part of four ongoing projects. Three of these projects are for the Indian Navy and one is for the Republic of Guyana. The three projects of the Indian Navy include construction of 03 Advanced Stealth Frigates under the prestigious project 17 A, the Survey Vessels (Large) & ASW-Shallow Water Crafts.