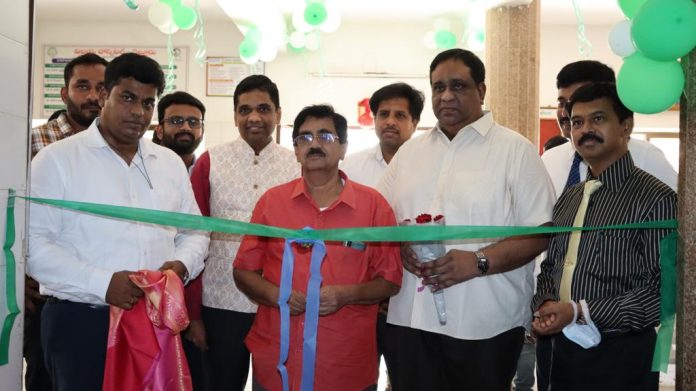 Fortis Healthcare opens Healthcare Information Centre at Nellore
– Specialists from Fortis Chennai to visit the center regularly –
Nellore, 27 May 2022: Fortis Healthcare Ltd., one of India's largest integrated and trusted multi-speciality chain of hospitals, today opened its Information Centre at Vijaya Hospital, Nellore as part of its commitment to provide the best healthcare services accessible to the people in and around Nellore. The centre was inaugurated by Dr. G Ashok, Ex-president, IMA Andhra Pradesh, in the presence of Dr. Krishna Reddy, Founder and Director, Vijaya Hospital and Dr. Poorna Chandran, Medical Superintendent, Fortis Hospital, Vadapalani. People who visited the launch event received free medical advice from the experts.
The information center has been established with the site of providing Fortis Healthcare's world-class healthcare services accessible to the people of Nellore. The expert tenet of doctors from Fortis Chennai representing various specialties such as Cardiology, Pulmonology, Neurology, Gastroenterology and Nephrology will visit the information center regularly to provide OPD consultations. This is expected to provide healthcare access to a vast population, especially those residing in the remote areas of Nellore and the adjoining districts, who had to travel to far off metro cities to avail international standard medical advice.
Inaugurating the center Dr. G Ashok, Ex-president, IMA Andhra Pradesh and CWC Member, Nellore region said "The inauguration of Fortis Information Centre is a significant step and will be instrumental in providing access to quality healthcare services to the residents of Nellore and adjoining regions. I appreciate the services that Fortis Healthcare has been providing through its hospitals across India. Their international standard of healthcare services is truly laudable. I hope Fortis Healthcare will cater to the medical needs of the people who find it difficult to travel afar for advanced medical treatments."\
Speaking at the launch, Dr. Poorna Chandran, Medical Superintendent, Fortis Hospital Vadapalani said "the pandemic has posed a great challenge to the healthcare sector for the past two years. It disrupted the healthcare treatment for the semi-urban and rural patients leading to an upsurge in morality among patients who are suffering from NCDs or other curable disease as patients avoided hospital visits for months together and were later diagnosed with serious illness in advanced stages."
He further said that "This new information centre will provide best-in-class medical treatment within reach under the supervision of senior medical experts. Hence request the patients not to delay their treatment any further. Prevention and timely treatment help to enhance the life expectancy of patients."