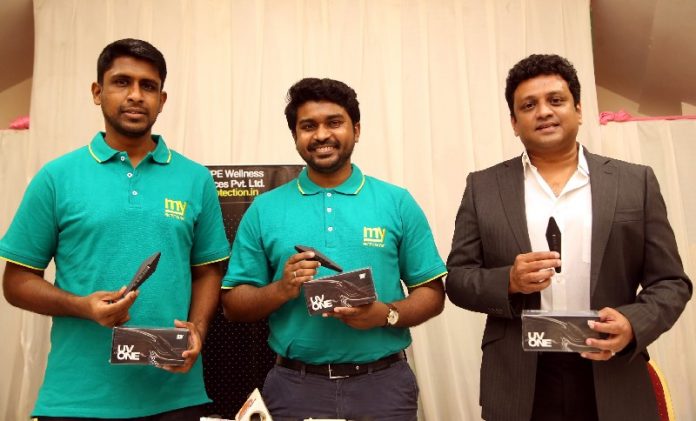 Entrepreneurs from Coimbatore Launch 'MY' – India's First Safety Lifestyle Company
Launches personal protection products to redefine personal lifestyle
Chennai: As the need for quality personal protective gear is increasingly
becoming a critical part of everyday human lifestyle across age groups, the two young entrepreneurs
from Coimbatore, Mr. Kavin Kumar Kandasamy and Mr. Raja Palanisamy, have launched a personal
lifestyle brand 'MY', a new company dedicated to the design, manufacturing and production of Indianmade safety products and services with Innovation, Design and Sustainability at its core. The company
was launched on 29th of October 2020 in the presence of Erik Solheim, The Sixth UN Environment
Executive Director and Under-Secretary-General of the United Nations, UNEP and K. Abdul Ghani, Founder of YouThink International Foundation.
As a part of this launch, the company is proud to announce the unveiling of a first-of-its-kind IndianMade UV One Pocket Sanitizer and UV Safe Tabletop Sanitizer along with other unique indigenous products such as Anti-Viral Protection Masks, Scarves and Overalls, which will be critical ensuring the protection of Indians through COVID-19 and any future global health crisis.
Commenting on the launch, Mr. Kavin Kumar Kandasamy, Founder and CEO of 'MY' said, "We are proud to announce the launch of our completely Designed and Made in India lifestyle brand 'MY' which will boldly embrace technology-driven products and services that can meaningfully address the most critical aspect of safety in our day-to-day lifestyle. We've invested heavily in Research & Development and Manufacturing to ensure that we as a Nation can withstand any future health threats while reducing our dependence on global supply chains. Our company will not only protect India, but grow to be a world leader in personal protection Gear as a Lifestyle in design and manufacturing."
"Over the past few months, we have been extremely concerned about the critical shortage of quality protection products that people are facing during this unprecedented global pandemic. We have ventured in this space to Innovate and Develop Daily Lifestyle gear that protects people from all walks of life. We're doing this to keep Indians safe, to create good-paying manufacturing jobs and to be part of what we see as the beginning of a Made in India revolution. Overall, we are making a long-term commitment to strengthen Research and Manufacturing leadership of Tamil Nadu and Karnataka and our hope is that we can help as many people as we can along the way." added Mr. Raja Palanisamy, Co-Founders and Chief Business Operator at 'MY' The brand's goodwill ambassador, Mr. K. Abdul Ghani, Founder of YouThink International Foundation said, "The team at 'MY' have launched products that are truly inspirational in response to the COVID19 global pandemic. Their Made in India Safety product line is an excellent initiative that will not only help India, but the entire world, as it recovers and reopens." With a manufacturing facility located in Coimbatore, Tirupur and Bengaluru, the company has directly and indirectly put 250 people into work and are looking to expand the product portfolio and its services in the near future.
"In the span of the last 3 weeks 'MY' has sold over 1000 products online and is now sought after by
Corporates and Institutions to ensure safe reopening of work places and institutions. We are happy to
be working on customising the appearance of these products for these customers" Mr. Kavin Kumar
Kandasamy – Founder & CEO of 'MY'
.