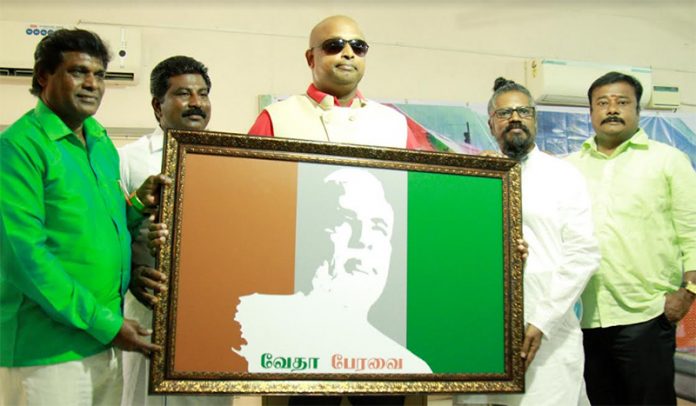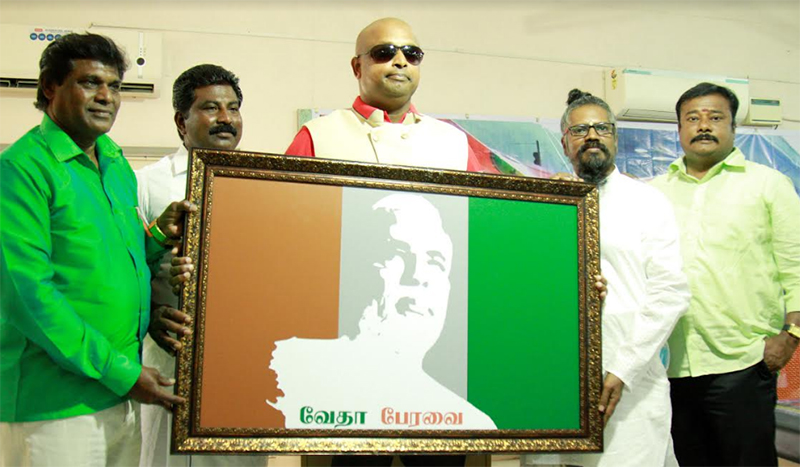 Dr. Vedha, Social Activists and Nephew of Veteran Actor S S Rajendran Launched his Political party "Vedha Peravai" in Tamil Nadu
~ To contest forthcoming 2021 assembly elections in TamilNadu and Pondicherry~
Chennai, March 2nd, 2021: Dr. Vedha launched his political party named Vedha Peravi today in Tamil Nadu. With the launch of his party, Dr Vedha is planning to contest all 234 assembly seats in Tamil Nadu and all 30 seats in Pondicherry independently. Dr Vedha nephew of Veteran yesteryear Actor S S Rajendran, a social activist and whistle-blower who was instrumental in bringing several issues hampering the state of Tamil Nadu to the limelight through his public interest litigations in various Honourable court across the country which include, 2G Spectrum case – Missing CAG documents & Justice Arumugasamy Commission case which was formed to probe into the death of Former Chief Minister J Jayalalithaa.
Dr Vedha is the Editor of Microstat – a Statistical & Policy Research Organisation based in New Delhi. He has been awarded Mother Teresa Award in 2005 for his social services in Tamil Nadu and won UNICEF Award for all India General Knowledge Test in 1993 in New Delhi. Dr Vedha also helped in reconstructing 174 temples across Tamil Nadu at the cost of Rs 80 Cr through donations. He had provided free medical treatment and education to socially deprived communities in the state.
The "Vedha Peravai" was launched to safeguard Tamil Nadu people interest and to ensure that people have access to all basic amenities including food, clean water, employment, electricity and to lead a healthy life in the state said Dr Vedha, President, Vedha Peravai, We want to educate people in Tamil Nadu to actively participate in the politics and to join us to achieve our mission to make a Tamil Nadu numero uno state in India, added Dr Vedha
Dr Vedha aims to address all the burning issues from their roots and taking responsibility for his State. Principal and policies of Vedha Peravai 's
Providing employment opportunities all educated youth
To cut state tax for petrol and diesel for next 5 years
To improve the quality of life for the common man
To push central government for a change in NRC, CAA, and NPR act and will give citizenship to Srilankan Tamil Refugees in India and to close 115 refugee centers in Tamil Nadu
All temples in Tamil Nadu will be operated independently and Minister for Hindu Religious and Charitable Endowments Department will be dismissed.
New law will be passed to convict a person who is spreading fake news about the cast and religion in the state
To bring more investments in to the state and reopening of closed Industries due to various issue.
Dr Vedha has been in Tamil Nadu politics for more than 2 decades. He started his political career with AIADMK in the year 1998 and he was holding several positions in ADMK in Madurai and Virudhunagar Districts. He joined DMK in the year 2007. He re-joined ADMK in the year 2011. He also served as a personal assistant for then Minister Mr Vaigai Selvan in the year 2011 to 2014. He joined Bhartiya Janata Party (BJP) in 2014 and he was an active member of the Delhi BJP.
Former Union Minister & Congress Stalwart Late Mr Vazhapadi Ramamurthy's son-in-law K R Kolanchiappan and Mr R Jayaprakash, Relative of Mr O Pannerselvam, Coordinator, AIADMK Joined Vedha Peravai today.
Dr Vedha launched the election manifesto for the upcoming Tamil Nadu assembly and will be releasing the candidate list for Tamil Nadu and Pondicherry assembly seats in Chidambaram on 9th March 2021. He will be campaigning for these candidates across Tamil Nadu