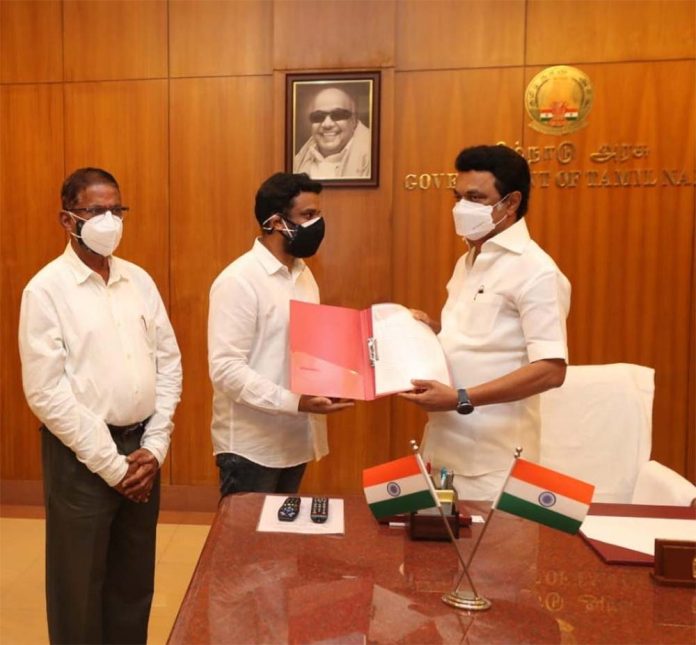 YouThink International Foundation Founder and secretary of the Lokaa Foundation Dr.K.Abdul Ghani handed over 1.5 crores worth of Covid Safety Kits to Chief Minister M.K. Stalin
While many civilians are losing their livelihoods due to the second wave of corona, the Tamil Nadu government is also fighting the war against corona in order to protect the people. In this regard, under the name of Bless India Initiative, to prevent the spread of Corona Virus, Mr. K.Abdul Gani, on behalf of the Lokaa Foundation, has donated 15,000 corona safety kit worth Rs. 1.5 Crores containing Face Masks, Multivitamin & Zincovite Tablets, Kabasura Kudineer and Siddha Medicine.
K.Abdul Gani met Chief Minister M.K. Stalin in person at the Tamil Nadu Secretariat in Chennai and presented the letter. Of this, 5,000 kits each were distributed to the people of the Chief Minister's own constituency of Kolathur and 5000 at Chepauk, while 3,000 kits were distributed to the Chennai Corporation and 1,000 kits to the Tiruvallur district. Earlier, Mr. Udayanithi Stalin, MLA, DMK youth wing secretary and Chepauk constituency legislator, who attended the inaugural function of the Corona security equipment distribution at the Chennai Press Club, handed over 1,000 kits to the families of the journalists.
ALSO READ:
K.Abdul Gani, of the YouThink International Foundation and secretary of the Lokaa Foundation, has so far planted more than 40 lakh saplings. He was the first to start a Tree Ambulance Service and continues to carry out various activities through his foundation to protect the environment. Along with the YouThink International Trustees Mr. Bhagavan Singh and Mr. Shami were present at the Secretariat.