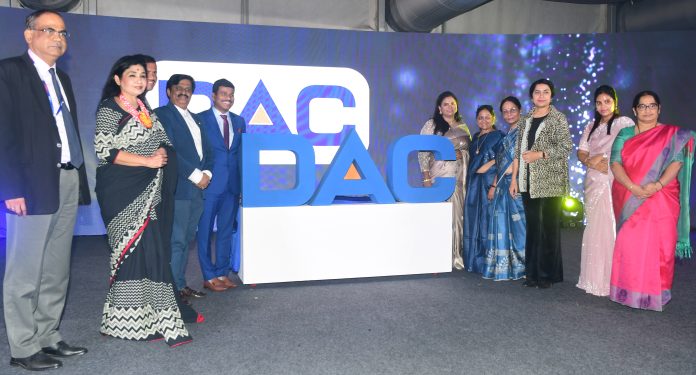 DAC DEVELOPERS Celebrated Its New Logo Launch and 101st Construction Project 'DAC Prathyangira', at Sholinganallur, Chennai
Chennai,
Chennai's leading construction company DAC Developers hit the refresh button by launching their new logo on the occasion of the inauguration of their 101st project 'DAC Prathyangira' at Sholinganallur, Chennai.
The new logo was unveiled by a team of eminent personalities that included Mrs. Suhasini Manirathnam, Actor, Director & Producer, Mr. R. Radhakrishna, Chief General Manager – SBI, Hon. Justice Pushpa Sathyanarayana, Former Judge Madras High Court and Judicial Member of the National Green Tribunal, Mrs. Neena Reddy, Joint Managing Director, Savera Hotels and Mrs. Latha Pandiarajan, Co-Founder, MA FOI Strategic Consultants, Mrs. S. Padmavathy, Regional Head – Marketing LIC HFL, amidst leading bankers, top industrialists, customers and service providers at Hotel Green Park, Vadapalani.
Following the new logo launch, the women of substance, partook in a thought-provoking panel discussion on 'Women Beyond' – Dream. Ascend. Conquer, receiving great applause & appreciation.
Excited about the refreshed company logo, Dr. S. Sathishkumar, Founder- Managing Director, DAC Developers, said, "The brand-new identity powers and reflects DAC's ambition to become a forerunner in the construction industry, by shaping and refining our construction projects, complete with superior quality offerings, to meet the demands and satisfaction of all our clients. Our growth from a small design business house to a full-fledged construction company today, inspires us to work harder to soon realise our dream of becoming a large multidisciplinary company in the country. Our 101st project, "DAC Prathyangira", a multi-storeyed apartment in Sholinganallur, stands testimony to our steady growth in this industry".
Dr. Sathishkumar expressed his reverence and gratitude to the 'Women of Excellence', for not only unveiling the new logo, but also for enriching the evening with an interesting panel discussion that provided food for thought for many. Furthermore, he reiterated the importance of how women are an integral part of building and nurturing homes, including the Nation, as a whole.