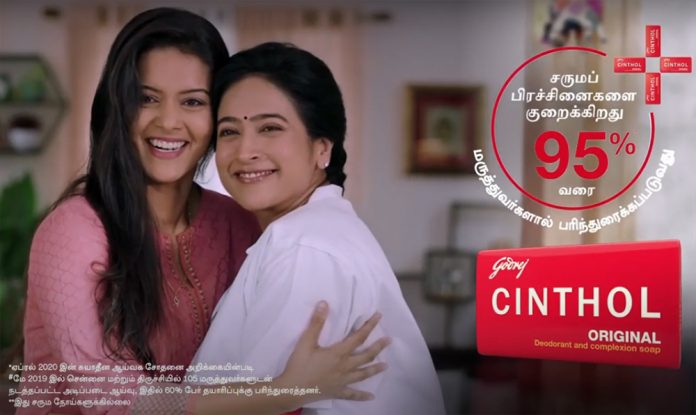 Cinthol launches new TVC for their iconic brand Cinthol Original
~The film gives a fresh new take on helping communities ~
Chennai, 11th September, 2020: This year has pushed businesses to their limits and have forced many to rethink the way they approach and strategize their business. For Cinthol, a brand that has a rich legacy of more than six decades, the new normal posed a new set of challenges. Being a brand that's built on strong association with protection outdoors, it had to readapt when the meaning of protection itself was being redefined.
The new Cinthol Original TVC, perfectly captures the sentiment of the times, while not losing elements of communication that have made it the iconic brand that it is. For instance, everybody's favourite Dr. Amma is back and this time, she is joined by her journalist daughter, an essential worker herself. The film celebrates the sense of keeping one's community before oneself, which is sure to strike a chord with the market it is intended for.

In the film the Daughter reports from the ground about how the city is slowly coming back to life and applauds the Tamil spirit, while Dr. Amma is worried about her protection. But the daughter assuages her mother's concerns by assuring that, she has learnt about protection and selflessness from her mother.  The film concludes with the mother-daughter duo going about their daily lives fearlessly, and selflessly by placing their trust in Cinthol for their skin protection.
Sharing his thoughts on the new film, Mr. Sunil Kataria, CEO – India & SAARC, Godrej Consumer Products Ltd (GCPL), said, "Cinthol is among the iconic brands that we have at Godrej Consumer and the Cinthol Original soap enjoys a very strong affinity with its consumers in South India. 2020 has made market innovations happen at a rapid speed, made us reinvent our strategies, shoot campaigns at home, be more agile and execute new product launches within months. With this new and improved approach, we wanted to come out with something that would help connect with our stakeholders in a meaningful manner, so, for this new TVC, we have re-defined protection which is the core brand value. The film helps to convey the brand's core proposition and we are optimistic that our audience will enjoy it too."
"Amidst the pandemic situation, there are so many frontliners who are putting society over self. This Cinthol Original ad narrates the story of Doctor Amma and her journalist daughter, both frontliners. The daughter assuages the mother's concern of her protection by telling her that she follows her mother's advice of putting society over self and protecting her skin with Cinthol. The ad carries forward Cinthol's legacy of being a doctor recommended brand, while at the same time paying a tribute to the workers on the frontline," said Anu Joseph, Chief Creative Officer, Creativeland Asia
The film was conceptualised by Creativeland Asia and directed by Rajiv Menon.
Watch the video here: Cinthol Original TVC