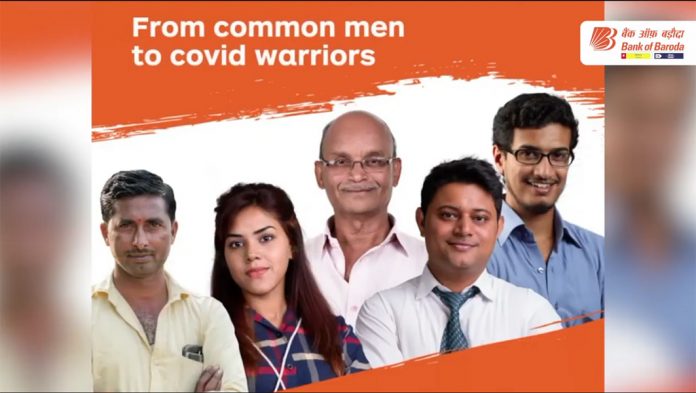 Bank of Baroda felicitates COVID warriors on occasion of 113th Foundation Day
Bank of Baroda felicitates over 600 COVID Warriors across India
To offer enriched customer experience through 'Bonding for a Better Tomorrow'
Bank of Baroda, India's third largest public sector bank, celebrated its 113th Foundation Day by felicitating over 600 COVID warriors pan-India. Every year on its Foundation Day, the bank presents 'Baroda Sun Achievement Awards' to eminent personalities who have made a social impact by contributing to the society in different walks of life. This year, the Bank gave the awards to selected COVID Warriors comprising of Police personnel, Doctors, Para-medic staff, Sanitation workers and Bankers from Public Sector Banks, who have rendered outstanding service from the front lines in the country's fight against the pandemic.
Applauding their work, Shri. Vikramaditya Singh Khichi, Executive Director, Bank of Baroda said, COVID Warriors from the medical profession, Police forces, para medic field, Government/ municipal departments and Banks have shown great commitment to their duty by ensuring uninterrupted availability of essential services to the public during the pandemic, even at the risk of their own health. They are the nation's heroes who deserve all the applause and appreciation from the countrymen for coming to the forefront and fighting the pandemic. We salute these COVID Warriors for the selfless services that they have rendered – and continue to render – during this hour of need for their countrymen. In honour of their commitment and as a token of our gratitude, Bank of Baroda is happy to felicitate the COVID warriors with the 'Baroda Sun Achievement Awards'. I also take this opportunity to thank all my colleagues in the Bank for their constant support during the ongoing pandemic. We are grateful to each and every COVID Warrior who has helped the country remain strong.
Bank of Baroda has also provided 113K meals to the needy to mark the 113th Foundation Day, through the 'Swastha Neev' initiative in association with our two partners who share the Bank's philanthropic values.
In pursuance of the Bank's commitment to provide enriching customer experience and enhanced product offering, the Bank has also created a theme titled 'Bonding for a Better Tomorrow' that is both futuristic and competitive. The Bank has always worked to create a better tomorrow for its customers across all segments of society through various schemes, and as the Bank turns 113, the Bank plans to introduce a host of new age products & services in the future for the benefit of customers.