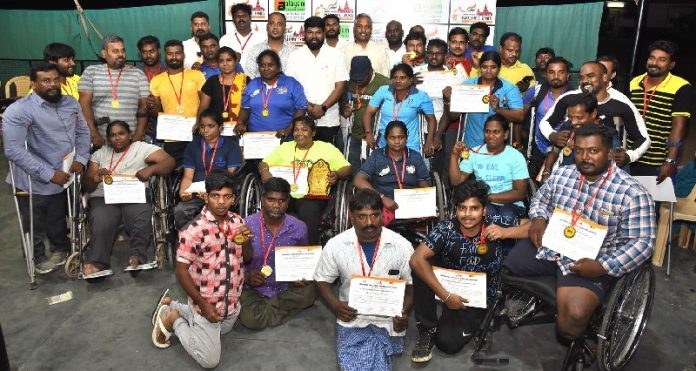 9 disabled athletes who won the state-level para powerlifting competition have been selected for the national level competition.
Focuz Sports Academy-FSA, Nungambakkam, Chennai hosted the 3rd Tamil Nadu State Level Powerlifting Championship 2021 for the disabled Athletes, jointly organized by the Tamil Nadu Paralympic Association and the Aalayam Welfare Trust. More than 100 athletes from all over Tamil Nadu enthusiastically participated in this competition in more than 10 categories.
The winner was presented with medals and certificates of appreciation by the Vice President of the Tamil Nadu Paralympic Sports Association, Mr. Kirubakara Raja, along with the General Secretary Mr. Ananda Jyoti, Treasurer Mr. Vijayasarathy, and the General Secretary Chennai Parasports Association Mr. Ganesh Singh was with them.
In addition, 7 winners Saravanan, Krishnamurthy, Sudhakar, Velmurugan, Murugan, Ramachandran, Venkatesh Prasad, and 2 players Gomati and Kasturi have qualified for the national level. All 9 selected athletes will compete in the National Para Powerlifting Championships to be held in Bangalore from the 19th to the 21st of this month.